Oct 4, 2017–Oct 6, 2017 at 7:00 am
Cell & Gene Meeting on the Mesa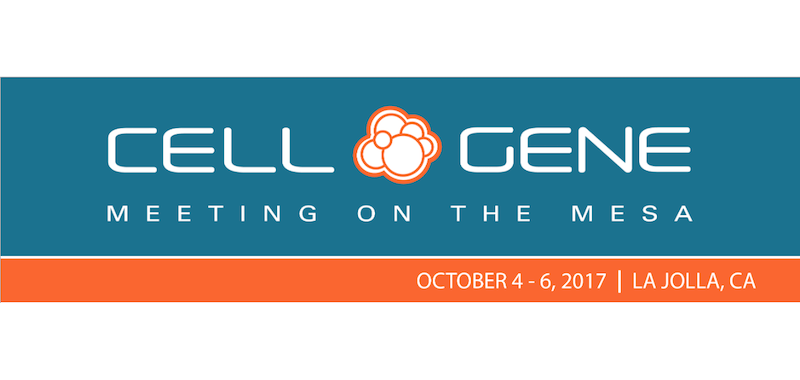 CELL & GENE MEETING ON THE MESA

7th Annual
PARTNERING FORUM

October 4-5, 2017
Estancia La Jolla Hotel | La Jolla, CA

6th Annual
PUBLIC FORUM
October 5, 2017
Sanford Consortium for Regenerative Medicine | La Jolla, CA

12th Annual
SCIENTIFIC SYMPOSIUM
October 6, 2017
Salk Institute for Biological Studies | La Jolla, CA
MORE INFO & REGISTRATION
ABOUT THE OVERALL MEETING
The Cell & Gene Meeting on the Mesa is a three-day conference bringing together senior executives and top decision-makers in the industry with the scientific community to advance cutting-edge research into cures. The meeting features a nationally recognized Scientific Symposium, attended by leading researchers and clinical experts from around the globe, in conjunction with the industry's premier annual Partnering Forum, the first event of its kind dedicated solely to facilitating connections in this sector. Combined, these meetings attract over 850 attendees, fostering key partnerships through more than 1100 one-on-one meetings while highlighting the significant clinical and commercial progress in the field.
ABOUT THE SCIENTIFIC SYMPOSIUM
The Scientific Symposium at the Cell & Gene Meeting on the Mesa attracts leading scientists, clinicians, life science business executives, patient advocates and government officials, with the aim of examining the imminent scientific and ethical challenges facing cell and gene therapy research today. The format is designed around panel discussions exploring topics ranging from basic science to revolutionary techniques and includes keynote presentations from world renowned researchers.
ABOUT THE PARTNERING FORUM
The annual Partnering Forum at the Cell & Gene Meeting on the Mesa is the largest partnering meeting organized specifically for the advanced therapies industry. The Alliance for Regenerative Medicine (ARM)'s extensive network of companies, investors, patient advocates, and government agencies provides attendees with the opportunity to establish key relationships aimed at accelerating business development in the field. Furthermore, ARM created the event to specifically facilitate translational research, PI engagement in the business community, and enable business, academic research and investor participants to connect for one-on-one meetings and strategic dealmaking.
MEETING HIGHLIGHTS
850+ attendees over the course of the three-day

conference

1100+ one-on-one meetings scheduled throughout

the Partnering Forum using an online system to connect attendees

70+ speakers and panelists covering topics from

market access to the latest discoveries in gene editing

60+ presentations by the field's most prominent

publicly traded and emerging private companies

30+ scientific posters highlighting

cutting-edge research from labs throughout the country on display

10+ interactive panels addressing critical

commercial, scientific, regulatory and reimbursement issues
ORGANIZED BY
Alliance for Regenerative Medicine (ARM)
Sanford Stem Cell Clinical Center at UC San Diego Health
https://health.ucsd.edu/clinicaltrials/sanford/Pages/default.aspx
QUESTIONS?
Please contact Laura Parsons at lparsons@alliancerm.org
Date and Time
Oct 4, 2017–Oct 6, 2017
7:00 am–6:00 pm
See more date(s) and/or time(s) below.
Location
Day 1 & 2 Estancia Hotel; Public Forum - Sanford Consortium for Regenerative Medicine; Day 3 - Salk Institute
Event Registration
Registration for this event is required by Oct 5, 2017. Visit the registration page for details.

Event Fee
12th Annual Scientific Symposium ONLY - Academic / Translational PI $50
Contact
Jake Banfield Weir, UCSD Stem Cell Program Manager or Marci Murray, UCSD Stem Cell Program • jbanfieldweir@ucsd mjmurray@ucsd.edu • 858-534-8510
Audience
Faculty, Staff, Students, The General Public
Event Host
Jennifer Braswell, Executive Director of Sanford Center
Event Category
Conferences, Workshops and Symposia
All Event Dates and Times