Mar 1, 2017 at 12:00 pm
Data & GIS Lab @ Geisel Open House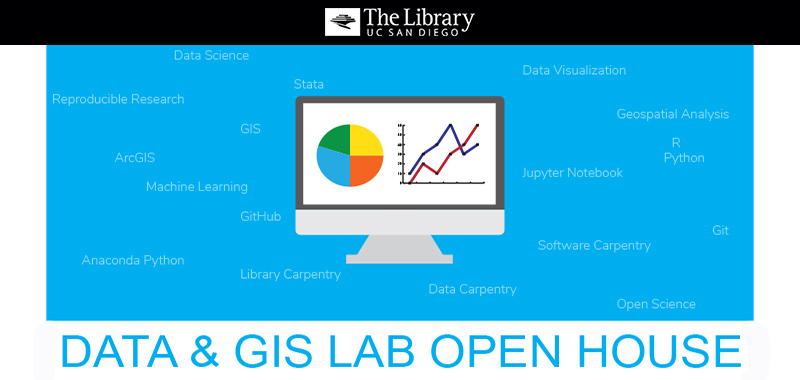 The campus community is invited to the UC San Diego Library's newly upgraded Data & GIS Lab in Geisel Library. Stop by the Open House on Wednesday, March 1 from noon - 5pm to find out how our experts can support your research.
The newly upgraded Lab offers:
A place to get help from consultants with expertise in GIS and data science
An interactive studio for supporting data intensive academic work
A flexible space for individual work or small group collaboration
A space with high powered computing resources that provide access to statistical and geospatial software, and much more!
The Open House will also include the following Data & GIS Research demonstrations from Library experts:
2:00pm – 2:15pm Bash deom by Reid Otsuji
2:20pm – 2:35pm Markdown & Literate Programming demo by Tim Dennis
2:50pm – 3:05pm GIS demo by Adi Ranganath
3:10pm – 3:25pm Twitter Analysis demo by Soomin Lee
For more information, please contact data-consult@ucsd.edu or visit, lib.ucsd.edu/lab.
Date and Time
Mar 1, 2017 at 12:00 pm
Location
Geisel Library, Data & GIS Lab (Main floor; West Wing)
Event Registration
Registration is not required for this event.

Event Fee
Free
Contact
Tim Dennis • data-consult@ucsd.edu • 858-534-0676
Audience
Faculty, Staff, Students
Event Host
UC San Diego Library
Event Category