May 4, 2017 at 5:00 pm
Death Squads and Death Lists: Targeted Killing and the Character of the State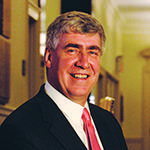 ​Invited speaker Professor Jeremy Waldron on "Death Squads and Death Lists: Targeted Killing and the Character of the State."
Ethics in the Public Sphere
Many faculty and graduate students in Philosophy are doing work in ethics and social-political philosophy that engages issues of broad public interest and concern. As part of our mission to contribute to the public's understanding and appreciation of these issues, the department has launched a new symposium series under the banner Ethics in the Public Sphere.
Date and Time
May 4, 2017 at 5:00 pm
Location
Event Registration
Registration is not required for this event.

Event Fee
Free
Contact
Susanne Degher • sdegher@ucsd.edu • 8585343071
Audience
Faculty, Staff, Students, The General Public
Event Host
Philosophy Department
Event Category