Jun 16, 2017 at 9:00 am
His Holiness, the 14th Dalai Lama to Speak at June 16 Public Event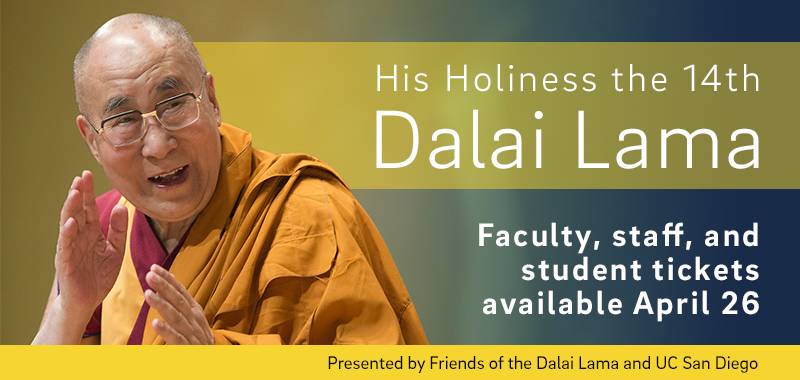 His Holiness the 14th Dalai Lama, Tenzin Gyatso, describes himself as a simple Buddhist monk. But to the world he is a renowned peace advocate, a beacon of hope for humanity, sharing inspirational messages with international audiences that range from young students to world leaders.
The UC San Diego public event featuring the Dalai Lama on Friday, June 16, 2017 will begin with entertainment and festivities on RIMAC Field at 9 a.m. The one hour public address by His Holiness begins at 10 a.m., followed by a half hour Q&A session. Attendees are asked to arrive early as we expect an audience of 25,000. Parking and entrances to the campus will be impacted, and all guests entering RIMAC Field are subject to a metal-detector screening.
Ticket information as well as FAQs regarding security, parking and more can be found at http://compassion2017.ucsd.edu.
UC San Diego is the first stop on the Dalai Lama's 2017 U.S. tour, presented in partnership with The Friends of the Dalai Lama Foundation.
Date and Time
Jun 16, 2017 at 9:00 am
Location
Event Registration
Registration for this event is required.
Event Fee
$0 Campus Community, $15 General Public
Contact
University of California San Diego • compassion2017@ucsd.edu
Audience
Faculty, Staff, Students, The General Public
Event Host
University of California San Diego
Event Category