Nov 7, 2017 at 5:00 pm
Inside Innovation: Brian Head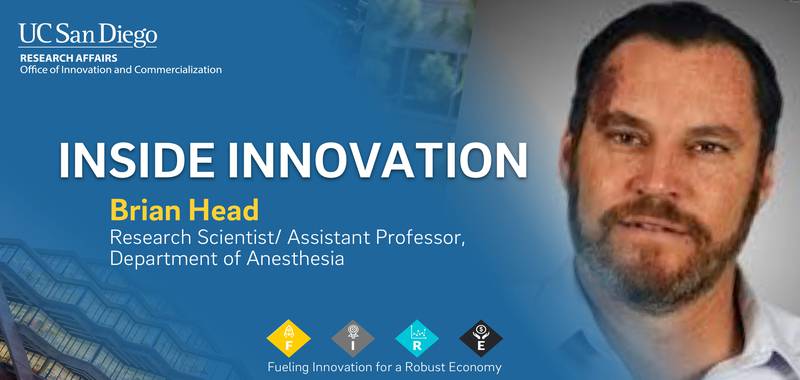 Inside Innovation featuring Brian Head.
Roth Auditorium and Terrace, Sanford Consortium for Regenerative Medicine, Tuesdays from 5pm to 7pm.
5:00 pm—Registration
5:15 pm—Welcome
5:20 pm—Presentation
5:40 pm—Q&A
6:00 pm—Refreshments/ Networking
7:00 pm—End
Prof. Brian Head is a Research Scientist/ Assistant Professor in the Department of Anesthesia at UC San Diego and at the VA San Diego Healthcare System. He is a Principal Investigator on an R01 funded by NINDS and a VA Merit funded by the Department of Veterans Affairs. The goal of his research is to use genetic interventions (via viral vector gene therapy) to regenerate neuronal growth after traumatic brain injury (TBI, funded by NINDS) and in the aging brain (funded by VA Merit). His research involves delivery of a viral vector (AAV) that contains a neuron-targeted promoter (synapsin) to drive the expression of caveolin-1 (Cav-1) specifically in neurons. Cav-1 is a membrane protein that is essential for membrane/lipid raft (MLR) formation in most cell membranes. One major research goal is to enhance pro-survival signaling that promotes dendritic growth, axonal sprouting, and re-organization of neuronal circuitry in the traumatically injured, ischemic, and aging brain.
Inside Innovation is a presentation series featuring the latest innovative technologies developed by UC San Diego researchers. Get an inside look at what is happening in the labs, explore commercialization opportunities and inquire about licensing.
UC San Diego Office of Innovation and Commercialization - providing campus-wide innovation and entrepreneurism support, building a dynamic entrepreneurial community and promoting a vibrant regional ecosystem.
There is ample parking adjacent to the auditorium building, once you head upstairs from the parking lot, go walk past the Bella Vista Caffe to the left. Directions to the Roth Auditorium (with Google maps link): http://www.sanfordconsortium.com/directions
Date and Time
Nov 7, 2017 at 5:00 pm
Location
Sanford Consortium, Roth Auditorium and Terrace
Event Registration
Registration for this event is required.
Event Fee
Free
Contact
Gwen Sands • innovation@ucsd.edu • 858-534-5815 (office front desk)
Audience
Faculty, Staff, Students, The General Public
Event Host
UC San Diego Office of Innovation & Commercialization
Event Category