Jan 17, 2017 at 4:00 pm
Inside Innovation: Catriona Jamieson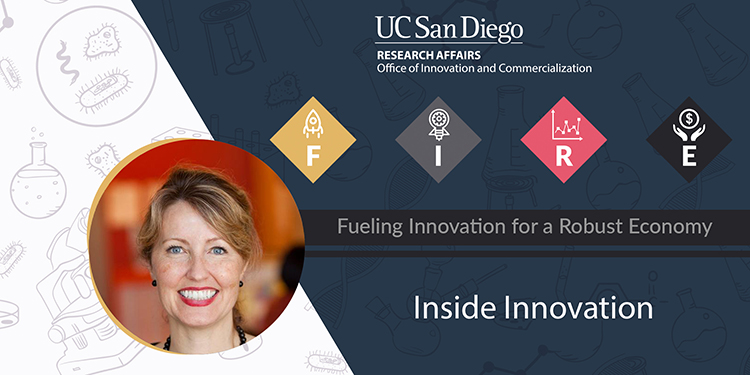 Inside Innovation featuring Dr. Catriona Jamieson.
Roth Auditorium and Terrace, Sanford Consortium for Regenerative Medicine, 3rd Tuesdays from 4–6pm.
4:00 pm — Registration
4:15 pm — Welcome
4:20 pm — Presentation
4:40 pm — Q&A
5:00 pm — Refreshments/ Networking
Catriona Jamieson, M.D., Ph.D., is Associate Professor of Medicine in the Division of Hematology-Oncology, Chief of the Division of Regenerative Medicine, Deputy Director of the Sanford Stem Cell Clinical Center, Co-Leader of the Hematologic Malignancies Program, and Director of Stem Cell Research at the Moores UCSD Cancer Center.
Dr. Jamieson specializes in myeloproliferative disorders (MPDs) and leukemia. Myeloproliferative neoplasms are a family of uncommon but not rare degenerative disorders in which the body overproduces blood cells. Myeloproliferative neoplasms can cause many forms of blood clotting including heart attack, stroke, deep venous thrombosis, and pulmonary emboli and can develop into acute myelogenous leukemia. Although some effective treatments are available, they are laden with serious side effects. In addition, individuals can become resistant to the treatments. Dr. Jamieson studies the mutant stem cells and progenitor cells in myeloproliferative neoplasms. These cells can give rise to cancer stem cells. Cancer stem cells may lie low to evade chemotherapy and then activate again later, causing disease progression and resistance to treatment. Her goal is to find more selective, less toxic therapies.
Inside Innovation is a presentation series featuring the latest innovative technologies developed by UC San Diego researchers. Get an inside look at what is happening in the labs, explore commercialization opportunities and inquire about licensing.
UC San Diego Office of Innovation and Commercialization - providing campus-wide innovation and entrepreneurism support, building a dynamic entrepreneurial communit
Date and Time
Jan 17, 2017 at 4:00 pm
Location
Roth Auditorium, Sanford Consortium for Regenerative Medicine 2880 Torrey Pines Scenic Drive San Diego, CA 92037
Event Registration
Registration for this event is required by Jan 17, 2017. Visit the registration page for details.

Event Fee
Free
Contact
Office of Innovation and Commercialization • innovation@ucsd.edu • (858) 534-5815
Audience
Faculty, Staff, Students, The General Public
Event Host
Office of Innovation and Commercialization
Event Category