Jan 13, 2017 at 8:00 am
Now Available: UC People Management Certificate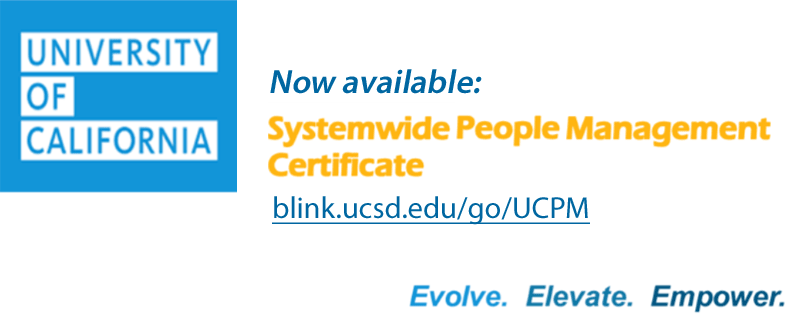 Intended for: Anyone who currently manages or supervises people or aspires to manage people.
Staff Education & Development and the Health HR Talent & Organization Development Team have collaborated to launch the People Management Certificate for UC San Diego. This UC Systemwide program is for all people managers and consists of Core and Elective Courses, which include local and systemwide programs and eCourses, as well as instructor-led training experiences, and covers the following competencies: Performance Management, Managing People, Administration & Operations, Change Management, and Communications.
What are the benefits of completing the Certificate?
Builds baseline management skills for all people managers
Increases opportunity for promotion and potential for future leadership positions
Offers easily accessible eCourses that are learner-centric and self-paced
Builds on coursework already completed*
When and where are the courses held?
UC Systemwide People Management Certificate Coursework:
Courses include systemwide eCourses & UC San Diego-specific instructor-led courses.
For more information, visit blink.ucsd.edu/go/UCPM.
* Contact Staff Education and Development for more
information about eligible already-completed coursework
Date and Time
Jan 9, 2017 at 8:00 am
See more date(s) and/or time(s) below.
Location
Both eCourses and local instructor-led training courses are listed on the UC Learning Center.
Event Registration
Registration for this event is required.
Event Fee
Free
Contact
Staff Education and Development • staffeducation@ucsd.edu • (858) 534-4890
Audience
Staff
Event Host
Staff Education
Event Category
Conferences, Workshops and Symposia
All Event Dates and Times