May 19, 2017 at 3:00 pm
Organ-on-a-Chip: a more economical, ethical, and effective model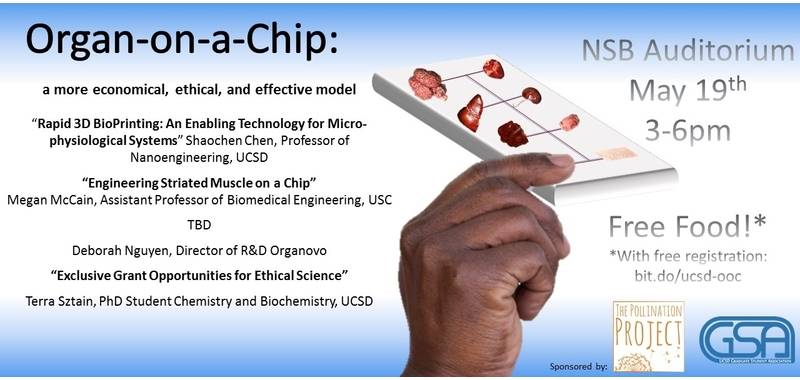 Join us as leaders in the field of Organ-on-a-Chip research discuss the current stage of this technology! Researchers from academia and industry will discuss future developments, currently available research tools. This technology has the potential to revolutionize translation research by addressing three key issues with the current models:
1. Economics – Since 95% of drugs which go through clinical trials ultimately fail after the step from moving from animal to human, getting one drug to pass FDA standards costs billions of dollars on average.
This cost is a result of the differences in the models used, and the human response. Moving toward the use of more human-like models is key for avoiding these discrepancies.
2. Ethics – There are ongoing debates on the ethics of the current model systems. With advances in stem cell technology, it is possible to generate stems cells from any human cell type, and differentiate them into any other cell type. This causes no harm to the person donating cells, since for example, a few skin cells can generate a tissue of interest with the same genotype as the donor, which makes personalized medicine a
3. Effectiveness – As mentioned above, the current models are not effectively mimicking human response. This is the main goal of these systems.
Additionally, there will be a short presentation on *exclusive* grants for ethical research. Don't miss the first of its kind event at UC San Diego!
Friday, May 19, 2017
3:00-6:00 pm
"Organ-on-a-Chip: a more economical, ethical, and effective model"
Shaochen Chen, Professor of Nanoengineering, UC San Diego
Megan McCain, Assistant Professor of Biomedical Engineering, USC
Deborah Nguyen, Director of R&D Organovo
UNIVERSITY OF CALIFORNIA, SAN DIEGO
Natural Sciences Building Auditorium
Host: Terra Sztain
Contact: Terra Sztain, tsztainp@ucsd.edu
Free food with free registration!
Date and Time
May 19, 2017 at 3:00 pm
Location
Natural Sciences Building Auditorium
Event Registration
Registration for this event is required by May 12, 2017.
Event Fee
FREE
Contact
Terra Sztain • tsztainp@ucsd.edu • 424-365-2108
Audience
Faculty, Staff, Students, The General Public
Event Category