Apr 24, 2017 at 11:00 am
Serhiy Zhadan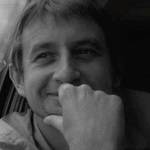 Serhiy Zhadan will read from his poetry on Monday, April 24 at 11 am in Literature, room 237. This event is co-sponsored by UC San Diego's Russian, East European, and Eurasian Studies Program and the New Writing Series. Serhiy Zhadan is a poet, novelist, activist, musician, originally from Ukraine's now war-torn Donbas. Born in the Luhansk Oblast in Ukraine, Zhadan graduated from Kharkiv University, and, after graduating, taught Ukrainian and World Literature. He currently lives in Kharkiv, Ukraine, where, in 2014, he was one of the most visible and best-known participants in the protest movement against the Yanukovych government. Zhadan is the author of several volumes of poetry, five novels, and the short story collections. His books, which include Voroshilovgrad (2010), Depeche Mode (2013), and Mesopotamia (2014), have been translated to several languages. Recent English-language articles about Zhadan have appeared in the New Yorker, Asymptote, the London Review of Books, and the Los Angeles Review of Books. Zhadan has translated poetry from a number of languages, including the work of Paul Celan and Charles Bukowski. Although he writes in Ukrainian, his work is on the bestseller list in Russian translation. Zhadan has been a member of two Kharkiv-based ska bands, Luk, for which Zhadan wrote much of the group's Ukrainian-language lyrics, and, since 2008, Sobaky v Kosmosi. His work has been called "post-proletarian punk," and is increasingly considered "the unofficial bard of Eastern Ukraine." Serhiy will be reading from his work in the original, while UC San Diego Literature and REEES faculty read English translations by Virlana Tkacz, Wanda Phipps, Yuliya Ilchuk, Reilly Costigan-Humes and Isaac Wheeler.
Date and Time
Apr 24, 2017 at 11:00 am
Location
Literature Building, Room 237
Event Registration
Registration for this event is required.
Event Fee
Free
Contact
Amelia Glaser • amglaser@ucsd.edu • 650-380-4535
Audience
Faculty, Students, The General Public
Event Category