May 3, 2017 at 7:00 pm
Wednesdays@7 presents Thomas Meadowcroft and Anthony Burr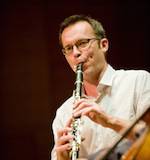 The Department of Music's Wednesdays@7 concert series continues with a performance by guest composer Thomas Meadowcroft and Associate Professor Anthony Burr. The concert will include performances of three of Meadowcroft's works by select UC San Diego graduate students alongside Burr and Meadowcroft.
The concert program consists of two recent pieces written for a chamber ensemble (The Great Knot and Medieval Rococo) and one new work for pedal steel guitar and electronics. Fiona Digney, Dustin Donahue and Christopher Clarino, all members of UC San Diego's percussion ensemble red fish blue fish, will perform The Great Knot. Next, Burr will step in on clarinet and lead Rachel Beetz (alto flute), Benjamin Rempel (percussion) and Todd Moellenberg (piano) in the United States premiere of Medieval Rococo. The concert will conclude with Burr (pedal steel guitar) and Meadowcroft (electronics) sharing the stage to perform Meadowcroft's latest work.
Date and Time
May 3, 2017 at 7:00 pm
Location
Event Registration
Registration for this event is required by May 3, 2017.
Event Fee
$0–$15.50
Contact
Meghan Roos • mroos@ucsd.edu • 858-534-6503
Audience
Faculty, Staff, Students, The General Public
Event Host
UC San Diego Department of Music
Event Category