Oct 19, 2019 at 9:00 am
2019 Kawasaki Disease Symposium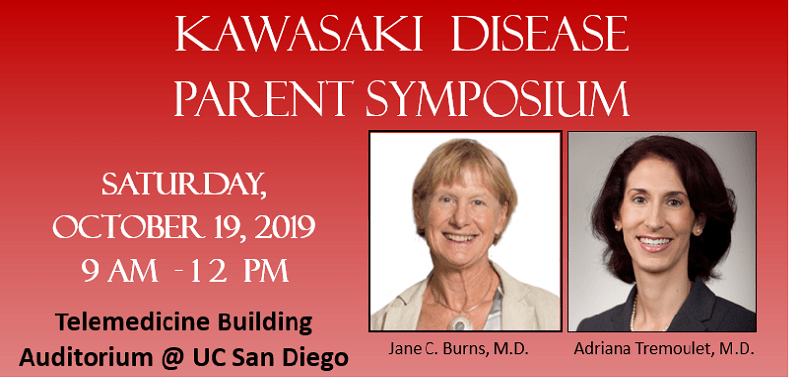 ​Kawasaki Disease (KD) is a severe illness characterized by inflammation of blood vessels throughout the body and is the leading cause of acquired heart disease in children. The majority of the patients are under 5 years of age but older children can also get KD. Although it is more prevalent among children of Asian descent, KD affects people of all racial and ethnic groups. Treatment for KD should be started within 10 days of onset of fever. Most KD patients recover without any lasting heart damage; however, without treatment, about 25% of KD patients will develop abnormalities in the coronary arteries.
The Kawasaki Disease Research Center at UC San Diego/Rady Children's Hospital San Diego will be hosting the 2019 Kawasaki Disease Parent Symposium. We invite you to join us to hear about the latest research advances in KD, meet our Pediatric and Adult KD teams, ask questions and learn about our various clinical trials and studies. Free babysitting will be provided for the children so that attendees can focus on the presentations. The event is free but attendees must register in advance.
Date and Time
Oct 19, 2019 at 9:00 am
Location
T. Denny Sanford Telemedicine Building, Lower Auditorium, UC San Diego School of Medicine
Event Registration
Registration for this event is required by Oct 18, 2019. Visit the registration page for details.

Event Fee
Free
Contact
Kawasaki Disease Research Center • kdresearch@ucsd.edu • 858-246-0157
Audience
Faculty, Staff, Students, The General Public
Event Host
UC San Diego Kawasaki Disease Research Center
Event Category