Jun 7, 2019 at 12:00 pm
55th Annual Watermelon Drop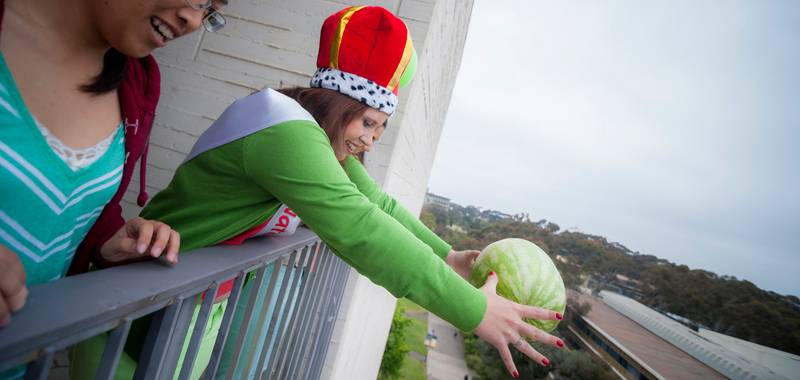 UC San Diego's oldest tradition happens this Friday—the Watermelon Drop! At the end of each academic year, students elect "Watermelon Royalty" to carry the sacrificial fruit to the top of seven-story Urey Hall. After a countdown, the watermelon is dropped—in the midst of a captive audience—and measured to test how far the splat reaches. The annual physics experiment has happened for the past 55 years. Will the record be broken this year? Join us and find out!
The Watermelon Drop started in 1965 when physics professor Bob Swanson asked the exam question, "What would be the terminal velocity of a watermelon dropped from the seventh floor of Urey Hall, and how far would it splat?" The record splat happened in 1974 at 167 feet, 4 inches. This year's Watermelon Royalty is Revelle College Acting Provost Kate Antonovics. She also serves as an Associate Teaching Professor in the Department of Economics.
Date and Time
Jun 7, 2019 at 12:00 pm
Location
Event Registration
Registration is not required for this event.

Event Fee
Free
Contact
Melina Remesha • melina@ucsd.edu • 858-534-1580
Audience
Faculty, Staff, Students, The General Public
Event Host
Revelle College
Event Category