Dec 1, 2018 at 6:00 pm
Stuart Collection Artist Mark Bradford to Speak on New Sculpture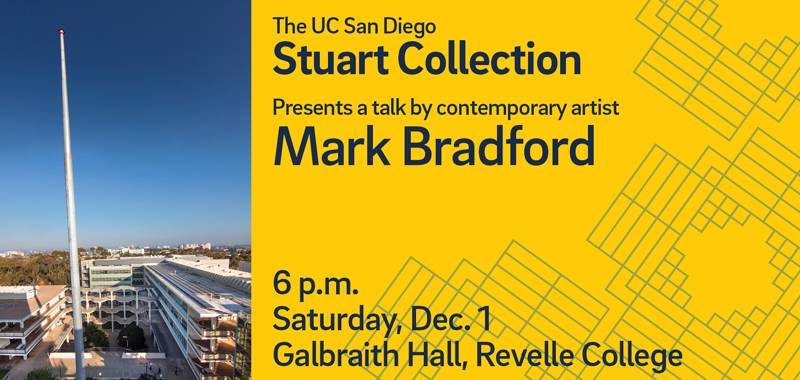 All are invited to a talk by contemporary artist Mark Bradford, who will speak on his monumental new work, "WHAT HATH GOD WROUGHT." The sculpture was recently installed as the 20th addition to UC San Diego's renowned Stuart Collection, a unique collection of site-specific works by leading artists of our time. The free talk will take place at 6 p.m. on Saturday, Dec. 1 in Galbraith Hall in Revelle College.
Bradford's work, which stands 195-feet-tall, is located in Urey Plaza in Revelle College. Perched high atop an industrial pole, a lamp blinks silently, fast and slow. The sculpture continuously signals in Morse code, transmitting the first message ever sent by electric telegraph: "WHAT HATH GOD WROUGHT." The experiment was led by Samuel Morse and his partner Alfred Vail in 1844 and marked an important step in launching our nation's communication network. The sculpture is intended to reflect on the powerful influence of technology while silently referencing impending change.
Born in Los Angeles, Bradford is known for producing large-scale, abstract paintings and collages made from leftover artifacts from city spaces. He builds up layers of found materials, then cuts away at them, revealing a kind of map of urban life, networks and relationships. In 2009, he was awarded a MacArthur Fellowship, followed by a National Medal of Arts in 2015. Two years later, Bradford was selected to represent the United States at the Venice Biennale, a prestigious international art exhibition.
Read the full story on Bradford's new sculpture.
Date and Time
Dec 1, 2018 at 6:00 pm
Location
Galbraith Hall, Room 242, Revelle College
Event Registration
Registration is not required for this event.

Event Fee
Free
Contact
Jane Zwerneman • jzwerneman@ucsd.edu • 858-534-2117
Audience
Faculty, Staff, Students, The General Public
Event Host
UC San Diego Stuart Collection
Event Category