Jan 12, 2017 at 4:00 pm
A New Language of Justice: Policing, Race, and Identity Traps in the Era of Trump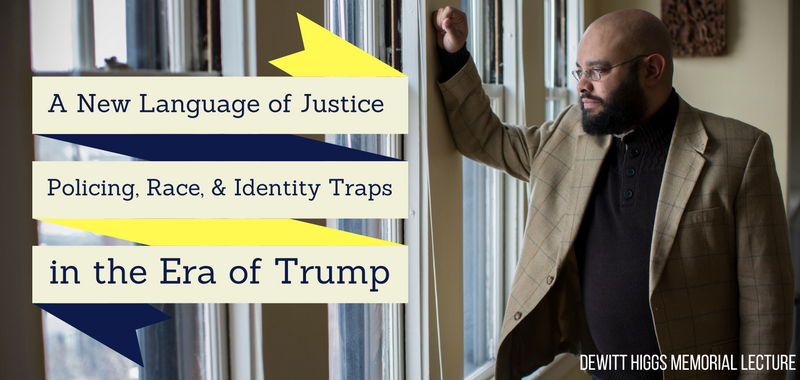 Earl Warren College at UC San Diego presents the DeWitt Higgs Memorial Lecture featuring Dr. Phillip Atiba Goff. He will speak on "A New Language of Justice: Policing, Race, and Identity Traps in the Era of Trump."
Racism has not disappeared. But it looks far different today than it used to. Despite this evolution in racial systems, the world has seen little evolution in the language we use to make sense of how race is lived or racial hierarchies are maintained. As a result, we inherit a world in which racial inequality persists but the language we use to describe it increasingly fails to capture our experiences of it—or guide us towards more just solutions. Using a combination of laboratory, field, and qualitative research, Phillip Atiba Goff provides new language that attempts to make sense of how race influences one of the most fraught context in America—policing—as we prepare for a presidential transition unlike anything we have seen before.
This event is open to all UC San Diego students, staff, and faculty.
Sponsored by:
Earl Warren College at UC San Diego
California Western School of Law
Eleanor Roosevelt College at UC San Diego
Thurgood Marshall College at UC San Diego
UC San Diego Vice Chancellor of Equity, Diversity, and Inclusion
UC San Diego Law & Society Program

Date: January 12, 2017
Time:
4:00-5:00 PM: Heavy Appetizer Reception
5:00-6:00 PM Coffee and Dessert with Lecture
Location: The Great Hall
Find directions to Great Hall here: http://helenedison.ucsd.edu/images/greathalldirections.pdf
Phillip Atiba Goff is the inaugural Franklin A. Thomas Professor in Policing Equity at John Jay College of Criminal Justice. He is the co-founder and president of the Center for Policing Equity, and an expert in contemporary forms of racial bias and discrimination, as well as the intersections of race and gender. Dr. Goff serves as one of four Principal Investigators for the CPE's National Justice Database, the first national database on racial disparities in police stops and use of force.
More recently, Dr. Goff led the CPE in becoming one of three Principal Investigators for the U.S. Department of Justice's National Initiative for Building Community Trust and Justice, which will contribute information to the National Justice Database. Dr. Goff conducts work exploring the ways in which racial prejudice is not a necessary precondition for racial discrimination. That is, despite the normative view of racial discrimination—that it stems from prejudiced explicit or implicit attitudes—his research demonstrates that situational factors facilitate racially unequal outcomes.
Dr. Goff's model of evidence-based approaches to justice has been supported by the National Science Foundation, Department of Justice, Russell Sage Foundation, W.K. Kellogg Foundation, Open Society Foundations, Open Society Institute-Baltimore, Atlantic Philanthropies, William T. Grant Foundation, the COPS Office, the Major Cities Chiefs Association, the NAACP LDF, NIMH, SPSSI, the Woodrow Wilson Foundation, the Ford Foundation, and the Mellon Foundation among others. Dr. Goff was a witness for the President's Task Force on 21st Century Policing and has presented before Members of Congress and Congressional Panels, Senate Press Briefings, and White House Advisory Councils.
About the DeWitt Higgs Memorial Lecture:
The DeWitt Higgs Memorial Lecture is an endowed lecture sponsored jointly by the Law and Society Program, Earl Warren College, and the Center for Comparative Immigration Studies at UC San Diego, California Western School of Law, and the Higgs family.
Date and Time
Jan 12, 2017 at 4:00 pm
Location
Great Hall, International Center
Event Registration
Registration is not required for this event.

Event Fee
Free
Contact
Kara Bayani • kbayani@ucsd.edu • 858-534-1709
Audience
Faculty, Staff, Students
Event Host
Earl Warren College at UC San Diego & California Western School of Law
Event Category