May 29, 2018 at 8:30 am
Accomplishing More With Less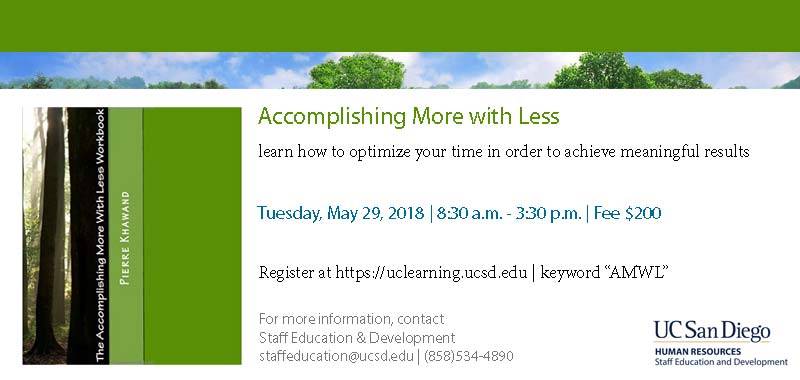 In today's world, we are faced with an incredible amount of information and demands, with conflicting priorities that seem to be constantly changing, and frequent interruptions, some are externally driven but many are self-inflicted. Not only do our efficiency and effectiveness suffer, but we may get stressed and overwhelmed or even fatigued and burned out. The question is, how do we manage these challenges? Or not just manage, but how do we thrive and feel accomplished? This workshop covers topics relating to managing time, priorities, interruptions, e-mail, calendar, and to-do lists, as well as organizing electronic and paper documents, and most importantly being invigorated and re-energized in the workplace and elsewhere.
What you will be able to do as a result:
Better manage interruptions and stay focused on the task on hand until meaningful results are achieved.
Work more strategically instead of working harder, methodically manage competing priorities, and learn new and innovative tools that can help you better align your daily activities with your goals.
Organize and manage your electronic and paper information easily and efficiently via a duplicate process that is practical and doable.
Manage stress like never before through purposeful action rather than passive reaction and turn stressful situations into opportunities.
Understand the obstacles that are stopping you from reaching your desired accomplishments, and take the necessary actions that will lead to growth and transformation, and significantly increased fulfillment.
Topics covered:
To Register:
Login to the UC Learning Center by going to https://uclearning.ucsd.edu, or through the Personal Tools menu on Blink, using your Single Sign-On
Click the FIND A COURSE button, and type the workshop title or keyword in the search box, then click the Enter button.
Using the Select button to the right of the activity name, click REGISTER in order to see the available date(s)
Select the offering of the activity you wish to attend by selecting the small circle next to the blue box.
Click SUBMIT to finalize your registration
Remember, if you don't receive a confirmation e-mail from Staff Education & Development, your registration did not complete.
Date and Time
May 29, 2018 at 8:30 am
Location
Training Center North (TCN; Plaza Level, Torrey Pines Center-North (TPC-N)
Event Registration
Registration for this event is required by May 22, 2018. Visit the registration page for details.

Event Fee
$200, includes the Accomplishing More with Less Workbook and The Perfect 15-Minute Day Journal
Contact
Staff Education & Development • staffeducation@ucsd.edu • 858-534-4890
Audience
Staff
Event Host
Staff Education & Development
Event Category