Jun 16, 2018 at 8:30 am
All Campus Commencement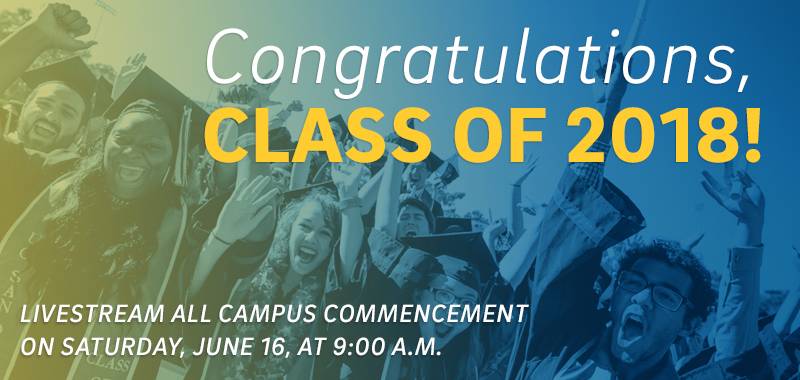 Congratulations to our graduates!
On June 16, UC San Diego will host All Campus Commencement 2018. We invite graduates to join classmates from across campus; esteemed faculty; friends and family, to fully experience the pomp and circumstance, joy, and pride that mark one of the most memorable times in a student's life.
Procession of Graduates: 8:30 a.m.
Ceremony: 9:00 a.m.
Location: RIMAC Field
While All Campus Commencement is a private event for graduates and their guests, a livestream of the ceremony will be made available. We hope all staff, students, faculty, and friends will tune in. Visit commencement.ucsd.edu for more information.
Date and Time
Jun 16, 2018 at 8:30 am
Location
Event Registration
Registration for this event is required by May 23, 2018. Visit the registration page for details.

Event Fee
Free
Contact
Commencement Inquiries • commencement@ucsd.edu
Audience
Faculty, Staff, Students, The General Public
Event Category