Dec 7, 2017 at 7:30 pm
An Evening with Andy Weir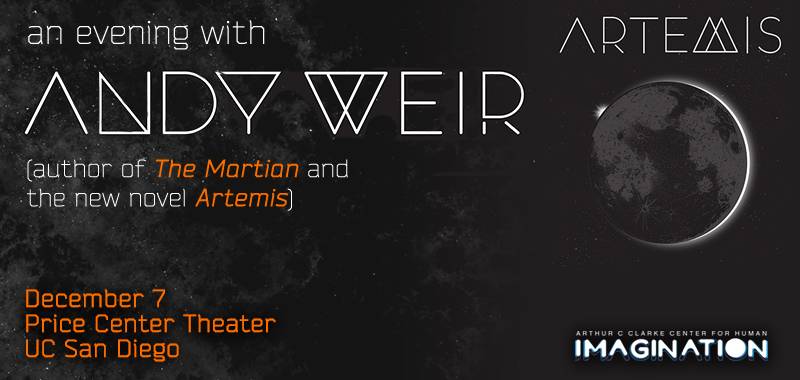 The Arthur C. Clarke Center for Human Imagination is hosting Andy Weir—author of the 2011 novel "The Martian," adapted for film by Ridley Scott and starring Matt Damon—Dec. 7, 2017, 7:30 p.m., at the Price Center Theater. The discussion will explore the future of humanity on the moon, and Weir will examine his much-anticipated new novel "Artemis" with Erik Viirre, associate director of the Clarke Center and medical and technical director of the Qualcomm Tricorder XPRIZE.
"Artemis" follows the story of Jazz Bashara, a low-wage porter on the first and only city on the moon, in a near-future world that Weir builds with his trademark rich, scientifically accurate detail. A book signing will follow the talk, with copies available for purchase. Tickets for the event go on sale Oct. 9 and are available through the UC San Diego Box Office.
A limited number of tickets will be available for a VIP meet-and-greet with Weir at The Loft at UC San Diego, from 6 to 7 p.m. VIP tickets are $70 and include appetizers and one drink, a signed copy of "Artemis," admission to the talk at the Price Center Theater and priority in the signing line.
Before becoming an acclaimed author, Weir studied computer science at UC San Diego from 1990 to 1994. He joins a long list of the university's alumni science fiction luminaries, including Kim Stanley Robinson, Nancy Holder, David Brin, Catherynne Valente, Vernor Vinge, Aimee Bender, Raymond Feist, Luis Alberto Urrea, and Gregory Benford.
The evening with Andy Weir is the second program in the Arthur C. Clarke Center for Human Imagination's 2017-18 event series, Accelerating Imagination: FROM EARTH. On Oct. 10, Dr. Jay Pasachoff visited to discuss his research on solar eclipses. In 2018, the focus turns to Mars and deeper into the workings and worlds of the human imagination and its evolution on Earth.
Date and Time
Dec 7, 2017 at 7:30 pm
Location
Event Registration
Registration for this event is required by Dec 7, 2017. Visit the registration page for details.

Event Fee
$40–$70
Contact
Patrick Coleman • pcoleman@ucsd.edu • 858-534-6875
Audience
Faculty, Staff, Students, The General Public
Event Host
Arthur C. Clarke Center for Human Imagination
Event Category