Nov 27, 2019 at 12:00 pm
Annual Turkey Calling Show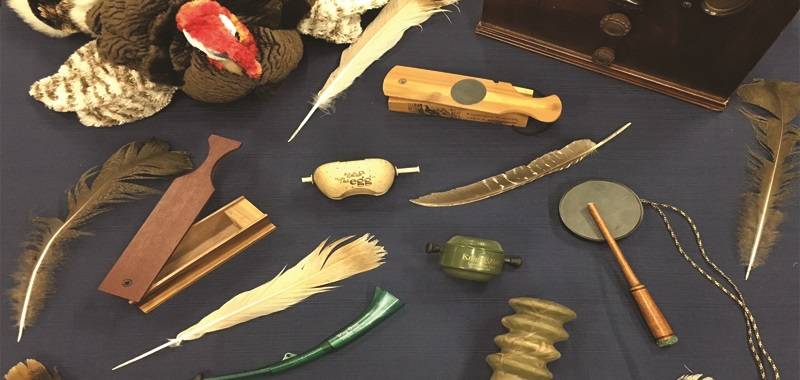 Annual Turkey Calling Show
Investigate the American turkey's surprising presence in European art. Learn more about the bird through turkey calling techniques. This noisy show at UC San Diego has become a signature study break for college students at Geisel Library. Younger kids on vacation from local schools are welcome (and they'll be reciting turkey-related riddles). Presented as an old-time radio show, this celebration is filled with music, sound-effects, stories and facts of interest.
Host and bandleader Scott Paulson, a UC San Diego alumnus, and Exhibits & Events Coordinator at the UC San Diego Library, has been lauded by the San Diego Union-Tribune for his entertaining shows: "an avant-garde vaudevillian, think Samuel Beckett meets John Cage." The Los Angeles Times relayed "Paulson's brand of G-rated fun, a sort of modern day morphing of Captain Kangaroo and Spike Jones, is always lively and at times wonderfully chaotic."
Other performers that day include: Karen Fisher as Turkey Dinner Hotline Operator, Melanie Peters as Story Lady, Kiera Sullivan as Cowgirl Kiera from the No-Kill Turkey Farm, and Aislinn Sotelo as The Swan of the Airwaves. Scott Paulson leads the band, featuring: Christian Hertzog on piano, Kirk Wang on drums and Chiara Capobianco on harp.
For more information about the event, please call (858) 822-5758 or spaulson@ucsd.edu
This annual event is always held at noon on the day before Thanksgiving in the Seuss Room of Geisel Library at UC San Diego.
Date and Time
Nov 27, 2019 at 12:00 pm
Location
Event Registration
Registration is not required for this event.

Event Fee
Free
Contact
Scott Paulson • spaulson@ucsd.edu • 858-822-5758
Audience
Faculty, Staff, Students, The General Public
Event Host
UC San Diego Library
Event Category