Oct 16, 2017 at 5:00 pm
APPLY TO BE A TOUR GUIDE—walk backwards, change lives, and get paid!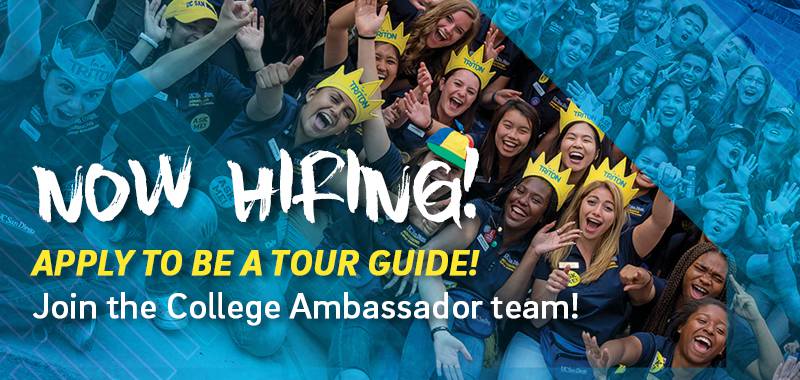 Are you passionate about UC San Diego? Join the College Ambassador team and share your student story with our 70,000+ visitors and prospective students!
Information sessions: Oct 16 & 17, 5–6:00pm in the Multipurpose Room.
Application due Oct 27th!
A campus tour is a powerful moment in the life of a prospective student. In just a few hours, your audience will gain their first impressions of the campus, begin imagining themselves studying at Geisel Library or surfing at Scripps Pier, and making the exciting decision to apply or enroll!
We are looking for passionate individuals to serve as the face and voice of UC San Diego to over 70,000 visitors each year. College Ambassadors speak authentically and authoritatively about UC San Diego as their current home and academic powerhouse. Your tours, student panels, and front desk enthusiasm will have a huge impact on our guests' college-making decisions, so if you're excited about sharing your college experience and changing lives, we encourage you to apply!
Meet current College Ambassadors and learn more about the job at our optional information sessions: October 16th and 17th, 5-6:00pm in the Multipurpose Room (first floor of the Student Services Center)
Application is due October 27th by 4:00pm in the Triton Center (first floor of the Student Services Center)
Learn more at: http://admissions.ucsd.edu/jobs
We can't wait to meet you!
Date and Time
Oct 16, 2017 at 5:00 pm
See more date(s) and/or time(s) below.
Location
Event Registration
Registration is not required for this event.

Event Fee
Free
Contact
Risa Farrell • rmfarrell@ucsd.edu • 8588221684
Audience
Students
Event Host
Campus Tours
Event Category
Tours and Information Sessions
All Event Dates and Times