Apr 27, 2018 at 9:00 am
Authoritarianism Today: Repertoires and Resistance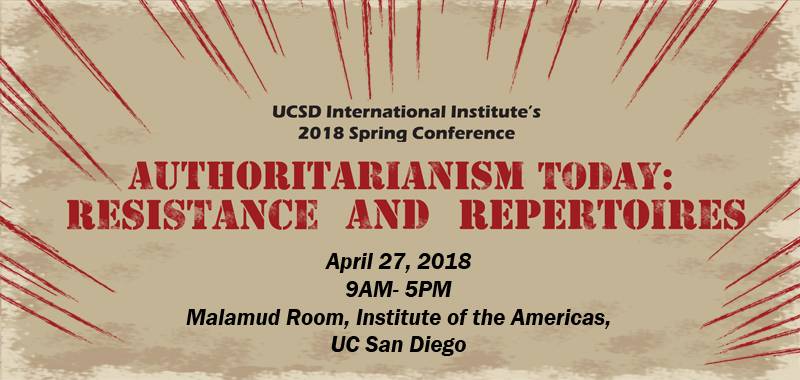 UC San Diego International Institute's Spring 2018 Conference—Authoritarianism Today: Repertoires and Resistance
Across the globe, this decade has seen a rise of autocratic leadership paired with a decline of democratic participation. In this interdisciplinary conference, scholars, journalists, and government officials analyze the ways authoritarianism works, both here in the U.S. and abroad. Rather than labeling one country or leader as "authoritarian", we ask about the repertoires of power in use in various places and contexts, seeking through this comparison a broader view of the mechanisms through which power is consolidated. How does ethno-nationalism function in very different contexts, such as the U.S., Europe, and Latin America? To what extent does religion fuel the fires of extremism? What part does corruption play? How are technologies like drones and internet censorship used to silence public opposition, and how might social media be a site of civil society resurgence? What effects does authoritarianism have on intellectual life and academic production? Finally, what roles can cities play in fighting against conservative forces at the national and international level?

Please join us for a daylong conference at the Malamud Room, Institute of the Americas, UC San Diego on April 27th, 2018. Admittance is free, but please RSVP at iiprogram@ucsd.edu.
For further information, please contact:
Nancy Postero, Director
npostero@ucsd.edu

Katia Todorova, Events Coordinator
ektodorova@ucsd.edu
Date and Time
Apr 27, 2018 at 9:00 am
Location
Malamud Room, Institute of the Americas, UC San Diego
Event Registration
Registration is not required for this event.

Event Fee
Free
Contact
Nancy Postero • npostero@ucsd.edu
Audience
Faculty, Staff, Students, The General Public
Event Host
International Institute
Event Category