Sep 16, 2017 at 9:00 am
Birch Aquarium at Scripps Celebrates 25 Years "On The Hill"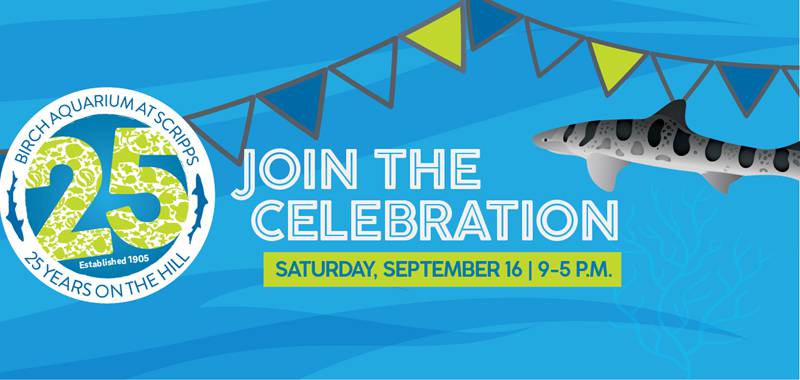 Join us as we celebrate 25 Years in our current location "On the Hill" Saturday, Sept. 16 from 9 a.m. to 5 p.m. Though there have been several iterations of the Scripps aquarium since the very beginning of Scripps Institution of Oceanography in 1905, the opening of Birch Aquarium in 1992 took the aquarium to the next level, expanding the reach of the institution's public outreach arm. To celebrate this milestone, Birch Aquarium is hosting a family-friendly anniversary event. Enjoy crafts, a scavenger hunt, face painting, science interactions highlighting the latest science from Scripps Institution of Oceanography, live music by Hullabaloo, Lee Coulter, The Professors, the Johnny Tarr Trio, and more! Visit aquarium.ucsd.edu for a complete list of events. All 25th Anniversary events are included in Birch Aquarium admission, which is $18.50 for adults, $14 for children ages 3 to 17. Annual memberships are also available. For more information or to purchase tickets, visit aquarium.ucsd.edu or call 858-534-3474.
Date and Time
Sep 16, 2017 at 9:00 am
Location
Birch Aquarium at Scripps
Event Registration
Registration is not required for this event.

Event Fee
Included with admission
Contact
Birch Aquarium at Scripps • aquariuminfo@ucsd.edu • 858-534-3474
Audience
Faculty, Staff, Students, The General Public
Event Host
Birch Aquarium at Scripps
Event Category