Jan 10, 2018 at 5:00 pm
Careers in the Humanities Workshop: A Focus on Fellowships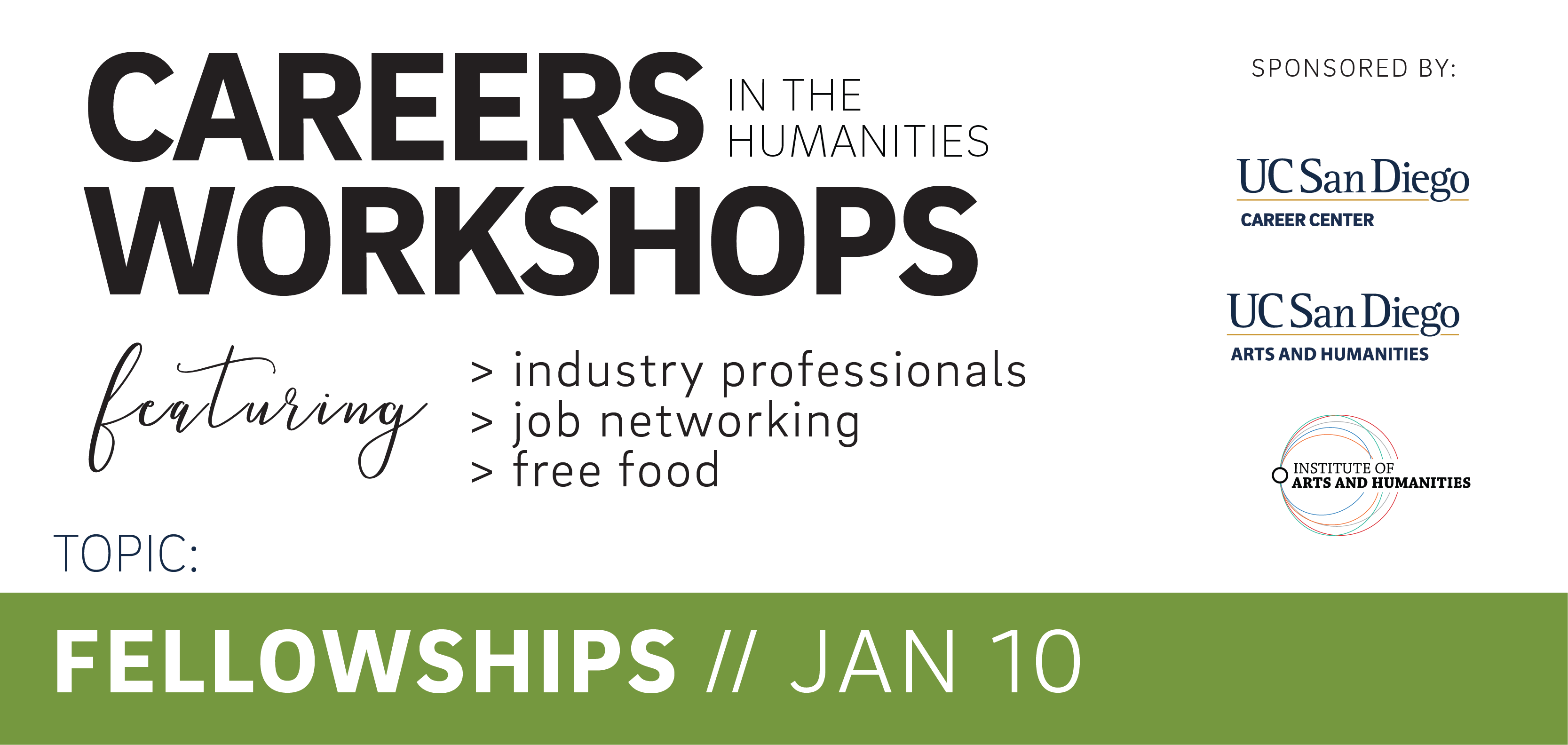 Join us for a night of career exploration!
Designed to provide concrete career information and advice to UC San Diego students within the arts and humanities majors and out, these exclusive workshops extend across four nights (Jan 8–11) with each focusing on a different career area: LAW, MEDICINE, FELLOWSHIPS, and ENTERTAINMENT/NEWS.
WORKSHOP AGENDA: Each workshop will feature a panel of industry professionals and admissions officers who will discuss their experience and the path to that career. The speakers will take questions from the attendees, and conclude with time for individual networking and one-on-one questions.
Complimentary catering will be provided. Students are encouraged to bring resumes and specific questions as appropriate for the networking and one-on-one time.
REGISTRATION: Advance registration is REQUIRED for attendance. Space is limited to 30 people per session to allow for more individualized student attention. Events are for current UC San Diego students only.
Please visit the registration page for more details.
Date and Time
Jan 10, 2018 at 5:00 pm
Location
Library Room, Career Services Center
Event Registration
Registration for this event is required by Jan 9, 2018. Visit the registration page for details.

Event Fee
FREE
Contact
Joelle Fusaro • jmfusaro@ucsd.edu • 8588220733
Audience
Students
Event Host
UC San Diego Career Center, Division of Arts & Humanities, Institute of Arts & Humanities
Event Category