May 29, 2019–May 30, 2019
Center for Wireless Communications Presents 5G and Beyond Forum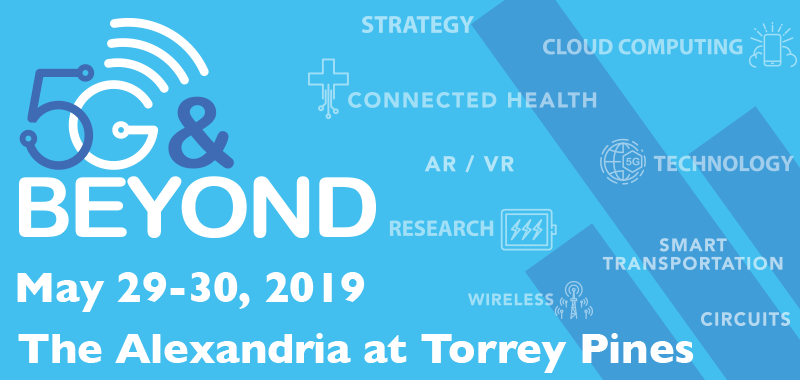 The Center for Wireless Communications (CWC) at UC San Diego is holding its seventh annual 5G Forum "5G and Beyond" on May 29-30, 2019. The Forum will discuss innovations and challenges in circuit, sensing, communication, networking and analytics techniques leading to next generations of networks and devices, and how they can enable new applications and user experiences like connected health, smart communities and immersive multimedia. As in our previous 5G Forums, industry leaders and experts from different industry segments, together with experts from academia, will participate as speakers and panelists. The Forum will conclude with a planning session to decide on new research projects which will help shape wireless innovations in CWC, member companies, and beyond.
Date and Time
May 29, 2019–May 30, 2019
Location
The Alexandria at Torrey Pines
Event Registration
Registration for this event is required. Visit the registration page for details.

Event Fee
Free to UCSD Faculty and Students
Contact
Theresa Lachman, Executive Assistant, Center for Wireless Communications • tlachman@eng.ucsd.edu • 858-246-2338
Audience
Faculty, Staff, Students, The General Public
Event Host
Sujit Dey, Director, Center for Wireless Communications
Event Category