Feb 20, 2019 at 12:30 pm
Center on Gender Equity and Health | Brown Bag Series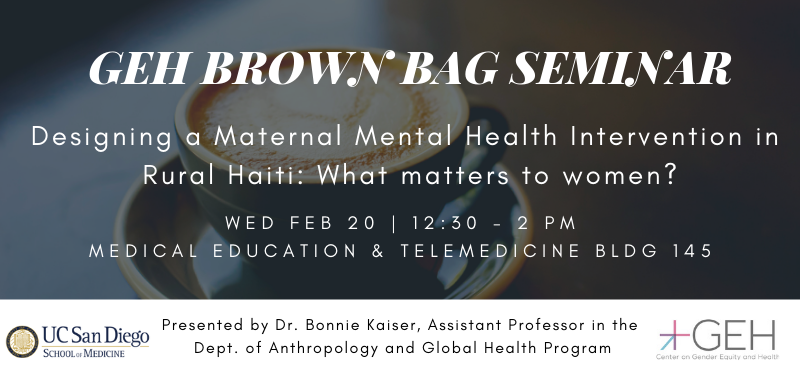 Join us for our monthly Brown Bag Seminar! Dr. Bonnie Kaiser will discuss "Designing a Maternal Mental Health Intervention in Rural Haiti: What matters to women?"
There will be FREE cookies and coffee!
Bonnie Kaiser (PhD, MPH) is an Assistant Professor jointly appointed in the UC San Diego Department of Anthropology and Global Health Program. Her research focuses on elucidating cultural models of mental health and illness and exploring their connections to care-seeking; developing and adapting measurement tools for cross-cultural research and interventions; improving cultural adaptation of global mental health interventions; and critically exploring concepts of trauma, risk, and resilience. In her research, she balances deep ethnographic engagement in her primary field sites of Haiti and Kenya with mixed-methods and multi-sited research in other global regions, including in Nepal, Ethiopia, and Nigeria.
This talk will describe exploratory research conducted in collaboration with an NGO aiming to develop a maternal mental health intervention in rural Haiti. The research revealed that women frame their distress as centered around their intimate relationships, particularly lack of autonomy and child-rearing stressors. She will discuss the ways that typical maternal mental health interventions that are available globally would likely fail to make a significant impact in this context without substantial adaptations, such as incorporating partner engagement.
Date and Time
Feb 20, 2019 at 12:30 pm
Location
Medical Education and Telemedicine Building (MET) Room 145
Event Registration
Registration is not required for this event.

Event Fee
Free
Contact
Eunhee Park • eup023@ucsd.edu • 858-246-3282
Audience
Faculty, Staff, Students, The General Public
Event Host
Jennifer Wagman
Event Category