Apr 18, 2018 at 3:00 pm
China's Pursuit of Next Frontier Technology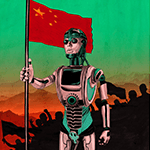 Technological competition between the U.S. and China is heating up. The "Made in China 2025" plan will continue to enlarge China's industrial robotics market, and China also aims to surpass America's lead in artificial intelligence research.
Henrik Christensen, director of the UC San Diego Institute of Contextual Robotics, explains how China is investing in these cutting-edge sectors. Barry Naughton, Sokwanlok Chair of Chinese International Affairs at GPS, discusses these trends in the context of China's industrial policies and economic reforms in the Xi Jinping era.
This event is part of the China Policy Turning Points series, sponsored by the UC San Diego International Institute and the 21st Century China Center.
Date and Time
Apr 18, 2018 at 3:00 pm
Location
Jacobs School of Engineering, Computer Science and Engineering Building room 1242
Event Registration
Registration for this event is required by Apr 18, 2018. Visit the registration page for details.

Event Fee
Free to attend
Contact
Sam Tsoi • stsoi@ucsd.edu • 858-246-1950
Audience
Faculty, Staff, Students, The General Public
Event Host
GPS 21st Century China Center
Event Category