Apr 18, 2018 at 4:00 pm
CHS Film Screening & Discussion—Iphigenia: Book of Change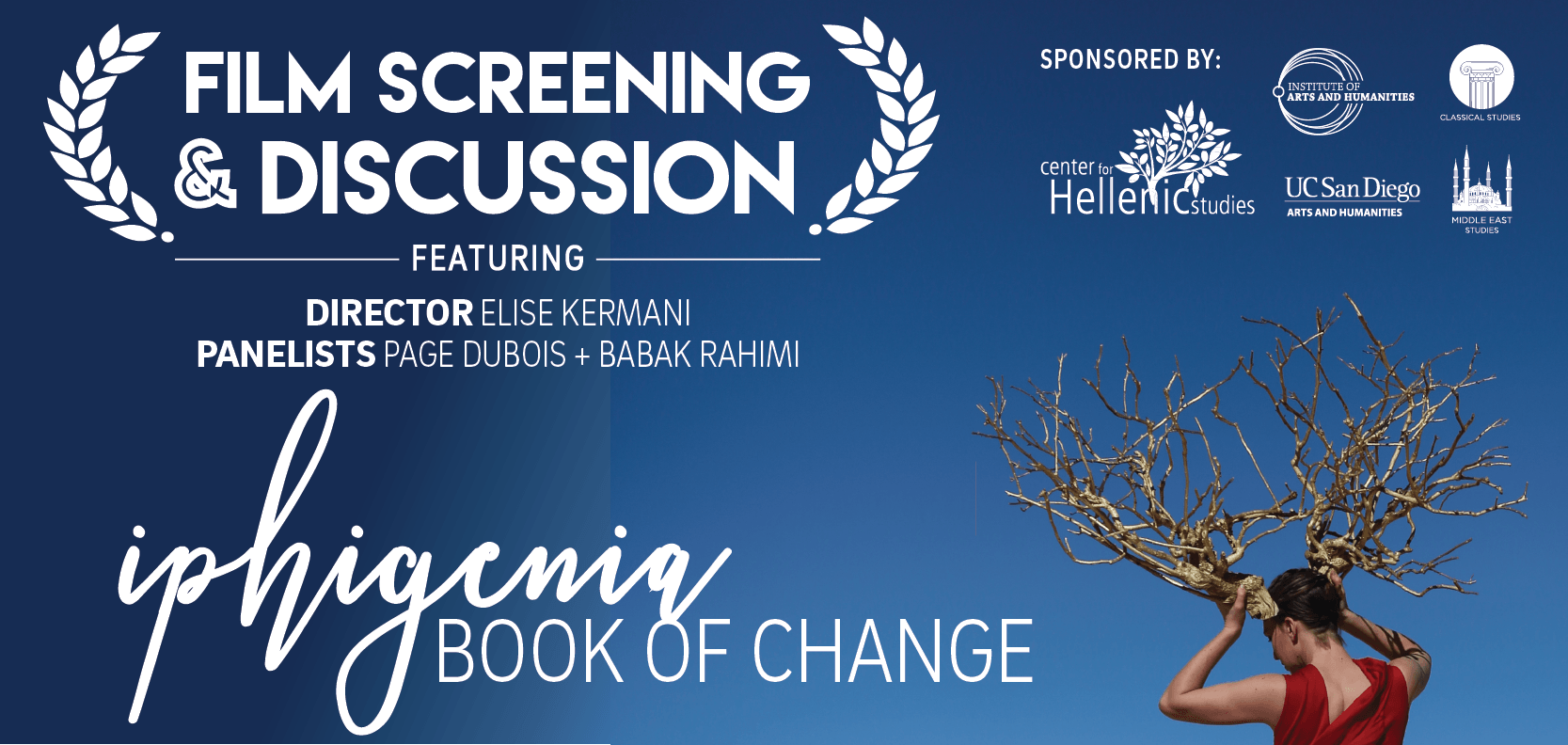 Join us for a special screening of the film "Iphigenia: Book of Change" followed by a discussion with film Director Elise Kermani, and guest panelists Professor Page duBois and Professor Babak Rahimi.
IPHIGENIA: BOOK OF CHANGE—A unique film highlighting the Greek figure of Iphigenia to tell a narrative about women who have endured, survived and escaped captivity, via performances of puppetry, theatre, dance, art design and music.
Event is free and open to the public. Space is limited—please RSVP! Event hosted by the Center for Hellenic Studies at UC San Diego in partnership with the Institute of Arts & Humanities (IAH), Middle East Studies and the Classical Studies Department at UC San Diego.
RSVP & GET MORE DETAILS ON THE EVENTBRITE PAGE:
https://iphigeniaucsd.eventbrite.com
Date and Time
Apr 18, 2018 at 4:00 pm
Location
Atkinson Hall Auditorium, CALIT2, Warren College
Event Registration
Registration for this event is required by Apr 18, 2018. Visit the registration page for details.

Event Fee
FREE
Contact
Joelle Fusaro • jmfusaro@ucsd.edu • 858-822-0733
Audience
Faculty, Staff, Students, The General Public
Event Host
The Center for Hellenic Studies in partnership with the Institute of Arts & Humanities (IAH), The Classical Studies Program and The Middle East Studies Program
Event Category