Feb 27, 2019 at 7:30 pm
CLASSICAL WOMEN, a devised undergraduate theatre piece directed by Kristen Tregar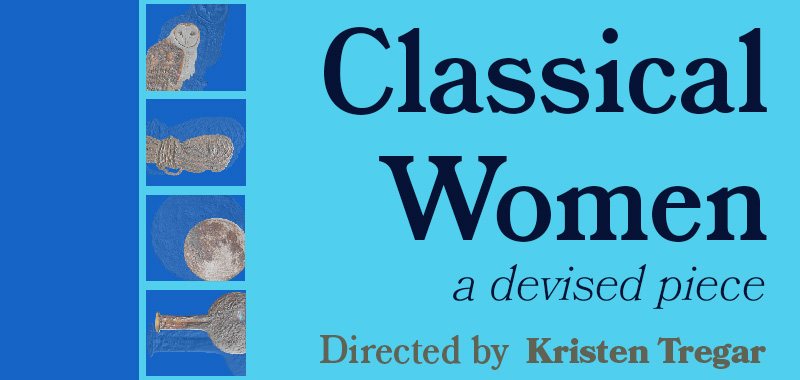 In the Fall of 2018, a coalition of two dozen undergraduate students under the mentorship of Kristen Tregar began a process of ethnographic research with the aim of bringing the thoughts and experiences of real-life persons to a theatrical space modeled after that of the Ancient Greeks. Forty-seven unique individuals were voluntarily interviewed, their offerings transcribed and carefully sorted by emergent themes. From among the twelve Greek texts studied, six classical women were elected to carry the interviewees' voices forward.
Picking up where the initial group left off, our ensemble cast has devised a work that brings our six classical women, a Greek chorus, and a crop of people harvested from dragon's teeth into conversation with topics such as relationships, motherhood, confrontation, and struggle. Here at the culmination of this two-quarter process, we are honored to present this innovative theatrical experience, developed by the combined intentions and investment of over one hundred unique individuals.
Date and Time
Feb 27, 2019 at 7:30 pm
See more date(s) and/or time(s) below.
Location
Arthur Wagner Theatre in Galbraith Hall
Event Registration
Registration for this event is required. Visit the registration page for details.

Contact
Mark Maltby • mmaltby@ucsd.edu • 858-822-3152
Audience
Faculty, Staff, Students, The General Public
Event Host
Theatre & Dance
Event Category
Concerts, Performances and Exhibitions
All Event Dates and Times