Feb 26, 2019 at 8:30 am
Coaching for Performance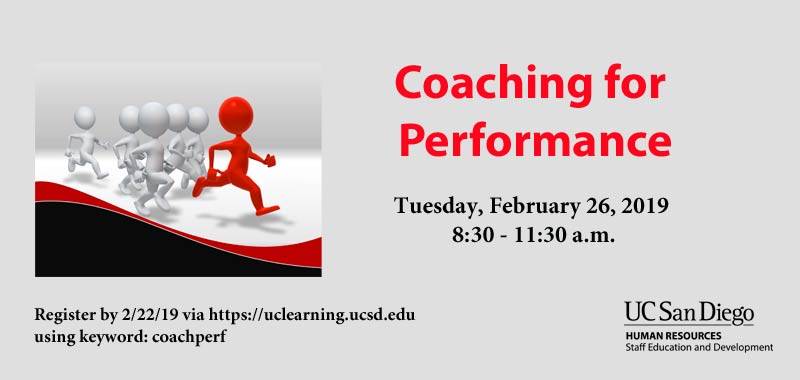 Intended for: those who direct the work of others (managers, supervisors, and work leaders)
Coaching begins with self-awareness and can transform people's capacity to take action. It is the ability to release an individual's latent talent and skills through a process of self-awareness initiated by the coach.
During this course, you will identify your strengths and opportunities for improvement in the area of coaching, learn and practice key coaching activities, and develop a coaching plan.
Topics include:
* Assessing your coaching approach and behaviors
* The 5-Step Coaching Model
* Managing individual dispositions to maximize talent
* Building self-efficacy
* Assessing performance
Date and Time
Feb 26, 2019 at 8:30 am
Location
Training Center North (Plaza Level, Torrey Pines Center-North)
Event Registration
Registration for this event is required by Feb 22, 2019. Visit the registration page for details.

Event Fee
Free
Contact
Staff Education & Development • staffeducation@ucsd.edu • 858-534-4890
Audience
Staff
Event Host
Staff Education & Development
Event Category