Oct 23, 2017 at 1:00 pm
Community Forum: International Perspectives on Urban Planning for Public Health by Rodrigo Reis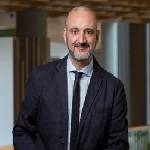 Rodrigo Reis is a Professor at the Washington University Brown School of Public Health and an Investigator at the Prevention Research Center. His research and teaching focuses on built and community environments and public health. Special interest areas include community interventions for promoting physical activity, and the effect of the built environment and active transportation on physical activity and health.
At the Brown School, Reis also serves as the Chair of the Urban Design specialization studies, in the Master of Public Health program. Prior to joining Washington University, Reis was on the faculty of Pontifical Catholic University of Parana, as well as the Federal University of Parana in Curitiba, Brazil. He has played an important role in international projects, such as Project GUIA (Guide for Community in Latin America), the International Physical Activity and Environment Network, the Design to Move Initiative, and Centers for Disease Control physical activity courses in Latin America.
He has published extensively in leading peer-reviewed journals. Contributions include participation in The Lancet Physical Activity Series published in 2012 and 2016, and The Lancet Urban Design, Transport, and Health Series published in 2016. He currently serves on the Board of the International Society of Physical Activity and Health.
In addition to his Community-oriented presentation on Campus, Professor Reis is also presenting at the Department of Family Medicine and Public Health Grand Rounds on October 20, 2017. For more information, please check the Institute website at: http://publichealth.ucsd.edu/.
Jointly Sponsored by:
The UC San Diego Institute for Public Health
The UC San Diego International Institute
Center for Iberian & Latin American Studies (CILAS)
Global Health
Date and Time
Oct 23, 2017 at 1:00 pm
Location
UC San Diego Cross Cultural Center, Comunidad Room
Event Registration
Registration for this event is required by Oct 16, 2017. Visit the registration page for details.

Event Fee
Free
Contact
Sheri Thompson • sherithompson@ucsd.edu • 858-534-8673
Audience
Faculty, Staff, Students, The General Public
Event Host
UC San Diego Institute for Public Health, UC San Diego International Institute, Center for Iberian & Latin American Studies (CILAS), Global Health
Event Category