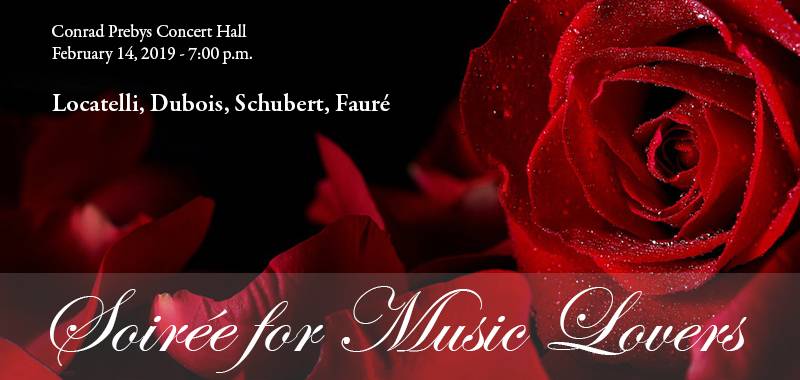 In 1987, renowned virtuoso violinist János Négyesy established a series of Chamber Music concerts called the "Soirée for Music Lovers." These programs were intended to be a musical counterpoint to the experimental music that characterized the music department at the University of California, where Professor Négyesy was a long-time faculty member. The quarterly concerts, featuring chamber music from the 18th, 19th and 20th centuries, grew to be a popular and elegant part of the musical life of San Diego. The tradition continues this year on Wednesday, February 14th, at the Conrad Prebys Concert Hall on UC San Diego campus. Päivikki Nykter, the late Professor Négyesy's wife, musical partner and a featured performer in every previous Soirée, has taken up the mantle in presenting a program worthy of the Négyesy legacy.
Program
Pietro Locatelli (1695–1764) Trio Sonata in G Major, Op. 5, No.1 for flute, violin and continuo
Andante – Largo, Andante – Allegro – Vivace
Théodore Dubois (1837–1924) Terzettino (1905) for flute, viola and harp
Franz Schubert (1797–1828) Four songs from Schwanengesang, D.957 (1828) for mezzo-soprano and piano
Liebesbotschaft – Ständchen – Das Fischermädchen – Am Meer
Gabriel Fauré (1845–1924) Piano Quartet No. 1 in C minor, Op. 15 (1876–79) for piano and string quartet
Allegro moderato – Scherzo: Allegro vivo – Adagio – Allegro molto
Performers:
Kyle Adam Blair (harpsichord and piano)
Alexander Ishov (flute)
Cecilia Kim (cello)
Leslie Leytham (mezzo-soprano)
Michael Matsuno (flute)
Brendan Nguyen (piano)
Päivikki Nykter (violin and viola)
Tasha Smith Godinez (harp)
Annabelle Terbetski (viola)
Registration is not required for this event.