Jul 19, 2017 at 8:30 am
Creating a Rewarding Staff Environment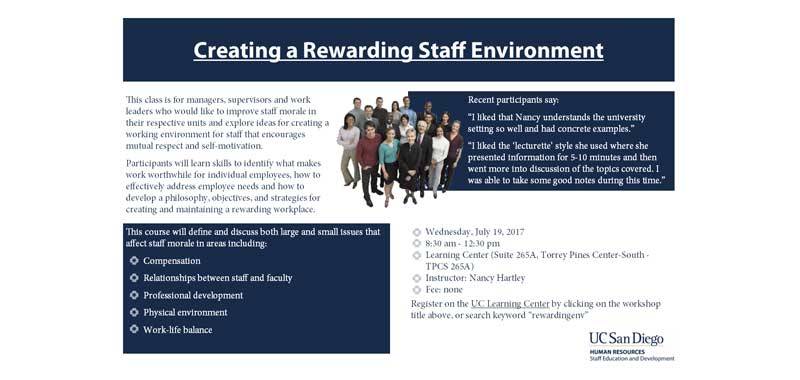 Participants will learn skills to identify what makes work worthwhile for individual employees, how to effectively address employee needs and how to develop a philosophy, objectives, and strategies for creating and maintaining a rewarding workplace.
This course will define and discuss both large and small issues that affect staff morale in areas including:
Compensation
Relationships between staff and faculty
Professional development
Physical environment
Work-life balance
Recent participants say:
"I liked that Nancy understands the university setting so well and had concrete examples."
"I liked the 'lecturette' style she used where she presented information for 5-10 minutes and then went more into discussion of the topics covered. I was able to take some good notes during this time."
To Register:
Login to the UC Learning Center by going to https://uclearning.ucsd.edu

,

or through the Personal Tools menu on Blink, using your Single Sign-On
Type the name of the class, or the keyword, in the search box at the top left, then press the magnifying glass
Click the blue Register button to the right of the activity name.
Click within the white area of your preferred time block so that the block is outlined in green
Click Next
Click Submit
If you have any questions, please contact Staff Education
and Development, staffeducation@ucsd.edu or (858)534-4890.
Date and Time
Jul 19, 2017 at 8:30 am
Location
Learning Center (Suite 265A, Torrey Pines Center-South (TPCS 265A)
Event Registration
Registration for this event is required.
Event Fee
Free
Contact
Staff Education and Development • staffeducation@ucsd.edu • 858-534-4890
Audience
Staff
Event Host
Staff Education and Development
Event Category