Feb 12, 2019 at 1:00 pm
Creating and Effective Individual Development Plan (IDP)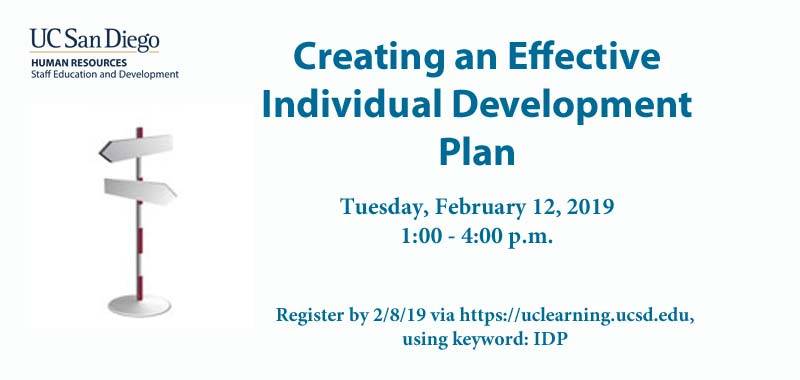 Intended for: all staff
An individual development plan (IDP) is an organized approach to learning experiences that are designed to improve your competence in skills needed for career growth or enhance skill strengths you already possess. In this workshop participants will learn how to create an IDP using the UC San Diego 70:20:10 learning strategy.
Topics Covered:
• Identifying skills and strengths
• Understanding the 70:20:10 learning strategy
• Identifying learning activities
• Developing SMART goals
• Strategies for putting the IDP into action
To Register:
• Login to the UC Learning Center by going to https://uclearning.ucsd.edu, or through the Personal Tools menu on Blink, using your Single Sign-On
• Click the FIND A COURSE button, and type the workshop title or keyword in the search box, then click the Enter button
• Using the Select button to the right of the activity name, click REGISTER in order to see the available date(s)
• Select the offering of the activity you wish to attend by selecting the small circle next to the blue box.
• Click SUBMIT to finalize your registration
Remember, if you don't receive a confirmation e-mail from noreply@ucsd.edu, your registration did not complete.
If you have any questions, please contact Staff Education & Development, staffeducation@ucsd.edu or (858)534-4890.
Date and Time
Feb 12, 2019 at 1:00 pm
Location
Training Center North (Plaza Level, Torrey Pines Center-North)
Event Registration
Registration for this event is required by Feb 8, 2019. Visit the registration page for details.

Event Fee
Free
Contact
Staff Education & Development • staffeducation@ucsd.edu • 858-534-4890
Audience
Staff
Event Host
Staff Education & Development
Event Category