Mar 2, 2019 at 6:00 pm
Crossing Boundaries 2019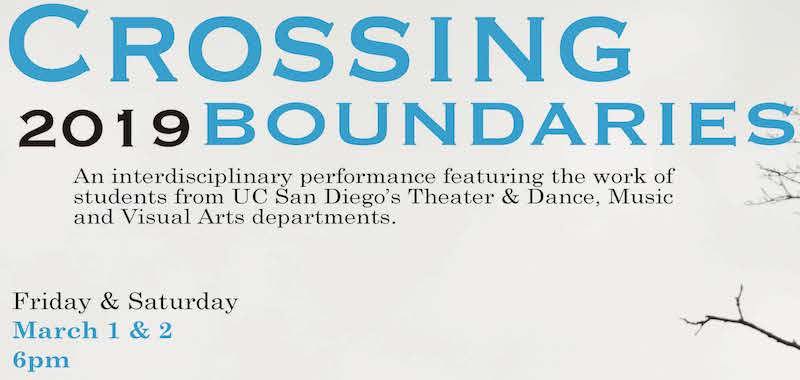 An interdisciplinary performance featuring graduate students from UC San Diego's Theater & Dance, Music and Visual Arts departments, advised by Professors Shahrokh Yadegari and Victoria Petrovich. Performers include Alex Stephenson, Andrew Lynch, Ariadna Sáenz, Elisabet Curbelo, Felipe Rossi, Grace Grothaus, John Burnett, Joseph Hendel, Juliana Kleist-Méndez, Justin Beets, Kathryn Schulmeister, Kevin Allen Schwenkler, Kirstyn Hom, Lydia Winsor Brindamour, Marcos Duran, and Paul Hauptmeier.
Date and Time
Mar 1, 2019 at 6:00 pm
See more date(s) and/or time(s) below.
Location
Calit2 Theatre, Atkinson Hall
Event Registration
Registration is not required for this event.

Event Fee
FREE
Contact
Lydia Winsor Brindamour • lbrindam@ucsd.edu • 978-317-0035
Audience
Faculty, Staff, Students, The General Public
Event Host
Calit2
Event Category
Concerts, Performances and Exhibitions
All Event Dates and Times