Apr 12, 2019
CSE Celebration of Diversity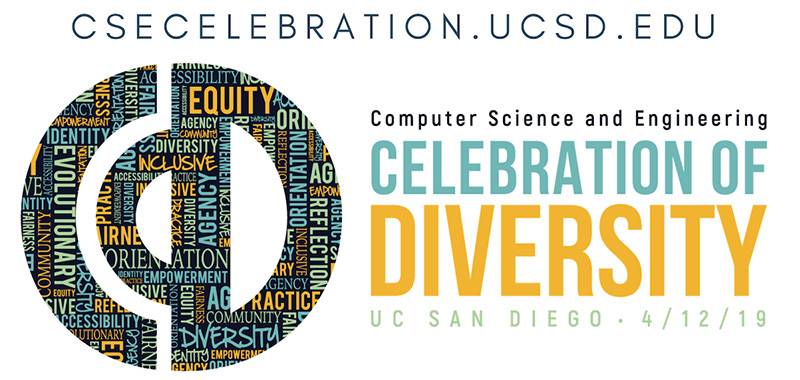 The CSE Celebration is a day-long event in the Department of Computer Science & Engineering at UC San Diego. This event will recognize the wealth of contributions from all the different kinds of people in our community. It will also act as a forum to discuss how we can continue to evolve to become a community of inclusive excellence. This event is being led by the CSE Department's Diversity, Equity, & Inclusion Committee.
Opening Remarks:
Elizabeth H. Simmons, Executive Vice Chancellor for Academic Affairs
Jeanne Ferrante, Professor Emeritus, UC San Diego CSE
Keynote Speaker: Pamela Cosman
Dr. Pamela C. Cosman is a Professor of Electrical and Computer Engineering at UC San Diego. She was associate Dean for Students of the Jacobs School of Engineering and also serves as the Faculty Equity Adviser for the Jacobs School of Engineering, as well as Co-Director of the Center for Research on Gender in STEMM. Through CRG-STEMM, she conducts basic social science research on biases in faculty hiring, experiences of under-represented minority graduate students, and gender effects in career recommendations. For her work in support of diversity, she was awarded the UC San Diego Affirmative Action and Diversity Award (2016), the Athena Pinnacle Award (2017), and the national Diversity Award of the ECE Dept. Heads Association (2018).
Workshops:
LGBTQ+ at UC San Diego: Resources and Community
Inclusive Design: Access for All
Recognizing and Responding to Microaggressions
Collaborative Approaches to Support Diverse Students in STEM: A path toward Inclusive Excellence
Curriculum Design and Engineering Challenges in CSForAll
Date and Time
Apr 12, 2019
Location
Event Registration
Registration for this event is required by Apr 11, 2019. Visit the registration page for details.

Event Fee
Free
Contact
CSE DEI Committee • cse-dei-events@eng.ucsd.edu
Audience
Faculty, Staff, Students, The General Public
Event Host
The Computer Science & Engineering Department's Diversity, Equity, and Inclusion (DEI) Committee
Event Category