Oct 12, 2017 at 8:30 am
Design Thinking to Focus, Collaborate, and Play!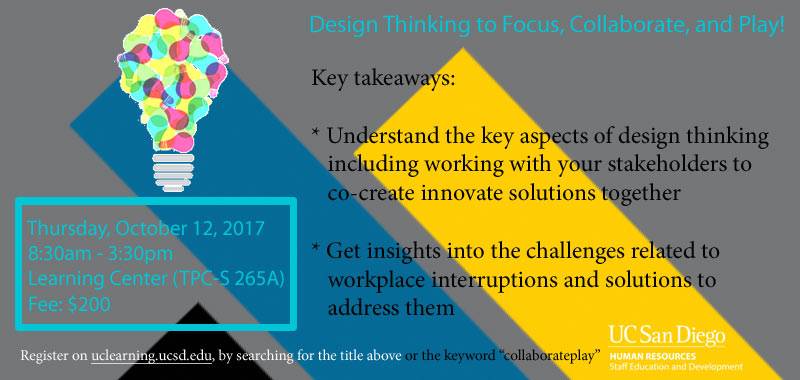 Description: With today's information overload and constant interruptions, staying focused has become an immense challenge, along with balancing between focused and collaborative work and staying invigorated and motivated.
In this workshop, you will learn a design thinking approach to solve one of today's most serious workplace challenges: constant interruptions. This is a hands-on workshop that includes an in-depth exposure to design thinking and how to use it to design a process, a product, a mobile app, and/or an add-on to e-mail. This workshop will leave you transformed in your ability to think creatively and work collaboratively to solve significant problems and leverage unique opportunities of all kinds.
Key takeaways:
Understand the key aspects of design thinking including working with your stakeholders to co-create innovate solutions together
Get insights into the challenges related to workplace interruptions and solutions to address them
To Register:
Login to the UC Learning Center by going to https://uclearning.ucsd.edu

,

or through the Personal Tools menu on Blink, using your Single Sign-On
Click the FIND A COURSE button, and type the workshop title or keyword in the search box, then click the Enter button
Using the Select button to the right of the activity name, click REGISTER in order to see the available date(s)
Click within the white area of your preferred time block so that the block is outlined in green, then click NEXT
Click SUBMIT to finalize your registration
Remember, if you don't receive a confirmation e-mail from Staff Education and Development, your registration did not complete.
Date and Time
Oct 12, 2017 at 8:30 am
Location
Learning Center Suite 265A, Torrey Pines Center South (TPCS)
Event Registration
Registration for this event is required by Sep 27, 2017.
Event Fee
$200
Contact
Staff Education and Development • staffeducation@ucsd.edu • 858-534-4890
Audience
Staff
Event Host
Staff Education and Development
Event Category