Feb 14, 2018 at 1:00 pm
Developing Your Assertive Skills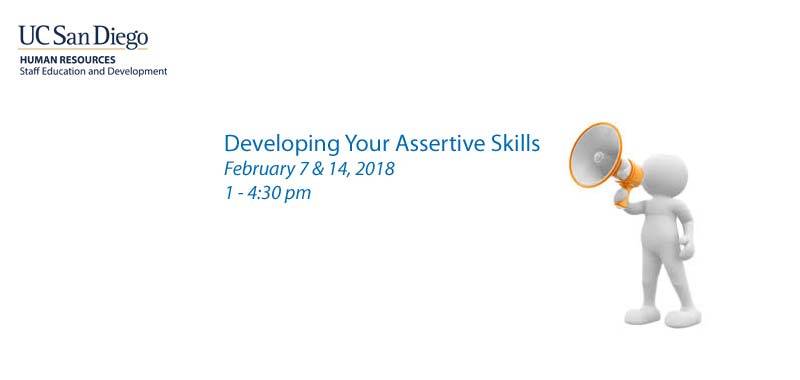 Intended for: those wanting to be less passive, less aggressive, or simply more effective interacting with others at work
In this workshop you will develop confidence, learn to respond effectively to criticism and provide appropriate feedback in challenging workplace situations and in communication with authority figures.
Topics include:
During the follow-up session you will review your progress and discuss strategies for coping with defensive reactions and personal criticism.
To Register:
Login to the UC Learning Center by going to https://uclearning.ucsd.edu, or through the Personal Tools menu on Blink, using your Single Sign-On
Click the FIND A COURSE button, and type the workshop title or keyword in the search box, then click the Enter button
Using the Select button to the right of the activity name, click REGISTER in order to see the available date(s)
Click within the white area of your preferred time block so that the block is outlined in green, then click NEXT
Click SUBMIT to finalize your registration
Remember, if you don't receive a confirmation e-mail from
Staff Education and Development, your registration did not complete.
Date and Time
Feb 7, 2018 at 1:00 pm
See more date(s) and/or time(s) below.
Location
Training Center North (Plaza Level, Torrey Pines Center-North)
Event Registration
Registration for this event is required by Feb 6, 2018. Visit the registration page for details.

Event Fee
$10.00
Contact
Staff Education and Development • staffeducation@ucsd.edu • 858-534-4890
Audience
Staff
Event Host
Staff Education and Development
Event Category
Conferences, Workshops and Symposia
All Event Dates and Times