Aug 20, 2019 at 12:30 pm
Developing Your Assertive Skills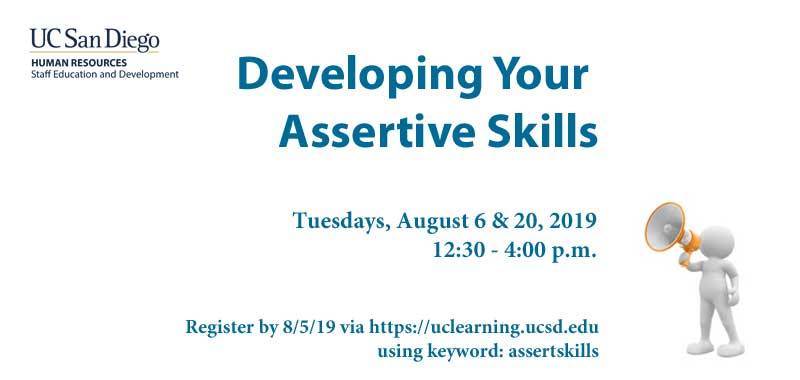 Developing Your Assertive Skills
Part 1: Tuesday, August 6, 2019 | 12:30–4:00 p.m.
Part 2: Tuesday, August 20, 2019 | 12:30–4:00 p.m.
Training Center North (TCN; Plaza Level, Torrey Pines Center-North (TPC-N))
Instructor: Kim Greene
Fee: $15 (registration/cancellation deadline 8/5/19)
Keyword: facgroups
Intended for: those wanting to be less passive, less aggressive, or simply more effective interacting with others at work
In this workshop you will develop confidence, learn to respond effectively to criticism and provide appropriate feedback in challenging workplace situations and in communication with authority figures.
Topics include:
Assessing your interpersonal assertive style
Identifying your assertive rights and responsibilities
Giving objective feedback
Applying effective assertive techniques
Developing scripts for asserting yourself in special situations
Understanding how you relate to authority figures
During the follow-up session you will review your progress and discuss strategies for coping with defensive reactions and personal criticism.
Date and Time
Aug 6, 2019 at 12:30 pm
See more date(s) and/or time(s) below.
Location
Training Center North, Torrey Pines Center - North
Event Registration
Registration for this event is required by Aug 5, 2019. Visit the registration page for details.

Event Fee
$15.00
Contact
Staff Education & Development • staffeducation@ucsd.edu • 858-534-4890
Audience
Staff
Event Host
Staff Education & Development
Event Category
Conferences, Workshops and Symposia
All Event Dates and Times