Oct 24, 2017 at 5:30 pm
Dirt is Good: Book Talk and Signing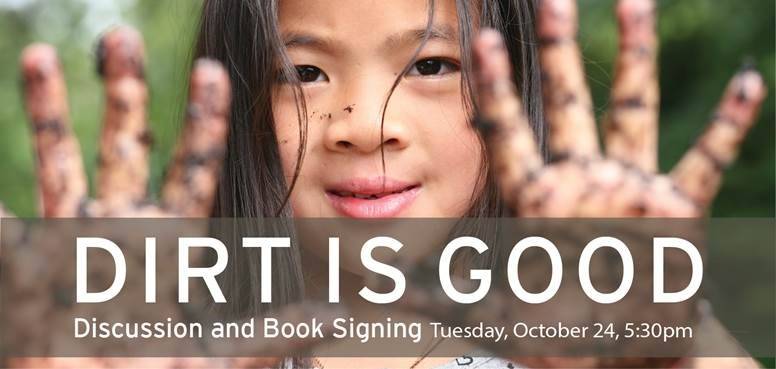 A Discussion and Book Signing with UC San Diego Professor of Pediatrics and Computer Science Engineering, Rob Knight, PhD.
Join us for a discussion and book signing with author Rob Knight on Tuesday, October 24, 2017 from 5:30 - 7:00 PM in the Seuss Room in Geisel Library. Light refreshments will be served. This event is free and open to the public.
In the new book, Dirt is Good: The Advantage of Germs for Your Child's Developing Immune System, two of the world's top microbiome scientists, Rob Knight, PhD and co-author Jack Gilbert, PhD, take a fresh look at the microbiome—the combined activity of all the tiny organisms inside our bodies and the surrounding environment—commonly known as germs.
At this event, Knight—director of UC San Diego's Center for Microbiome Innovation—will discuss society's recent obsession with the microbiome and its varied effects on human health, which has led to a rise in misinformation, especially for parents who are concerned about their child's heath. A book signing will follow the talk; copies of the book will be available for purchase from the UC San Diego Bookstore.
Date and Time
Oct 24, 2017 at 5:30 pm
Location
Geisel Library, Seuss Room
Event Registration
Registration for this event is required by Oct 24, 2017. Visit the registration page for details.

Event Fee
Free
Contact
Mariah Fellows • mfellows@ucsd.edu
Audience
Faculty, Staff, Students, The General Public
Event Host
UC San Diego Library
Event Category