Feb 21, 2019 at 5:00 pm
Distinguished Lecture Series: Gary Tomlinson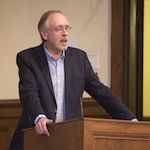 Distinguished Lecture Series guest, Dr. Gary Tomlinson, John Hay Whitney Professor of Music and Humanities at Yale University, presents "What Evolutionary Musicology Is, and What It Isn't"
Gary Tomlinson, by training a musicologist, has in recent years focused his attention on the musical and cultural evolution of Homo sapiens, leading to two books: A Million Years of Music: The Emergence of Human Modernity (2015) and Culture and the Course of Human Evolution (2018). Evolution (2018). His innovative view of this evolution models deep processual patterns in the interactions of culture and biology in hominins and other species, joining biologists' "niche construction" theory to the systematic analysis of Paleolithic cultures and an extended semiotics indebted to Charles Sanders Peirce.
Date and Time
Feb 21, 2019 at 5:00 pm
Location
Conrad Prebys Music Center, Recital Hall
Event Registration
Registration is not required for this event.

Event Fee
FREE
Contact
Sarah Hankins • shankins@ucsd.edu • 858-822-0160
Audience
Faculty, Staff, Students, The General Public
Event Host
UC San Diego Music
Event Category