Nov 8, 2017 at 3:00 pm
Fall Quarterly Conversations in Global Health-Maternal and Child Health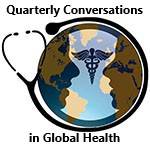 Join us for Fall 2017 Quarterly Conversations in Global Health
Maternal & Child Health
Great Hall, UC San Diego
Wednesday, November 8th, 2017
Opening reception begins at 3:00pm – Panel begins at 3:30pm
According to the World Health Organization, approximately 830 women died every day in 2015 from preventable causes related to pregnancy and childbirth, while more than 750 children under the age of 5 died every hour in 2012. Most of these deaths could have been prevented with access to the right resources and simple and affordable interventions.
Come hear from experts in the field about research going on in the field and what organizations are doing around the world to reduce these numbers.
During our opening reception (3:00 – 3:30pm) join us for heavy appetizers and meet with tabling organizations who have opportunities to get involved with related issues.
Professor of Anthropology & Global Health Program Director
Dr. Raj's research includes epidemiologic and qualitative assessment of gendered, social, and cultural vulnerabilities for reproductive, maternal, neonatal, child, and adolescent health.
Event MC: Thomas Csordas, Ph.D.
Confirmed Speakers: Anita Raj, Ph.D
Director of the UC San Diego Center on Gender Equity and Health

Directions:
Special thank you to event co-sponsors:
If you are interested in co-sponsoring one of our next events, please contact ghpadvising@ucsd.edu for additional information about how get involved.
See highlights from the previous Quarterly Conversations in Global Health here.
The views expressed at this event do not necessarily reflect the views of the sponsors or UC San Diego. As a public university, UC San Diego is dedicated to the dissemination of information and ideas as protected by the first amendment
Date and Time
Nov 8, 2017 at 3:00 pm
Location
Event Registration
Registration is not required for this event.

Event Fee
Free
Contact
Brittany Wright • bloy@ucsd.edu • 858-246-2314
Audience
Faculty, Staff, Students, The General Public
Event Host
Students for Global Health, The Global Health Program, and The Global Forum
Event Category