May 2, 2019 at 4:00 pm
Feminist World-Building in Japanese Cinema / Building Feminist Worlds in Japanese Cinema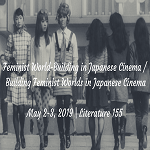 Across the production, criticism and scholarship of Japanese cinema, there remains startlingly little feminist work. We might attribute this to who controls the means of cinematic production in the Japanese film industry, to Japan's starkly gendered division of labor, to the limitations on film content that these structural conditions reproduce, to the flows that gender film audiences, or to the systems that assign value with the academy, privileging certain narratives, actors, voices, etc. Whatever the calculus, in Japanese cinema as elsewhere, we have arrived at a moment of what Sara Ahmed recently described as "feminist snap," that breaking point when "she[/we/you/I] just can't take it anymore" and when feminist work seems more necessary than ever. Interested as much in film practice as film criticism, theory and scholarship, we ask: what are feminisms in the context of Japanese cinema? What, now, can feminist knowledges help us address or even rectify in Japanese cinema? What might they be insufficient to address? What prompts a split between the study of gender and sexuality in Japanese cinema and a feminist politic? What forms of intersectionality, transnationality, and comparison does a feminist take on Japanese cinema necessitate? We invite you to join us in an exercise of "creative" and "affirmative world-building" (Ahmed) in, through, and with Japanese cinema.
Organized by Kim Icreverzi and Daisuke Miyao
Date and Time
May 2, 2019 at 4:00 pm
See more date(s) and/or time(s) below.
Location
Literature Building, room 155 (de Certeau)
Event Registration
Registration is not required for this event.

Event Fee
Free
Contact
Derrick Chin • derrickchin@ucsd.edu • 858-534-4618
Audience
The General Public
Event Host
Daisuke Miyao
Event Category
All Event Dates and Times