Jul 11, 2018–Jul 12, 2018 at 9:00 am
First-Generation Students at UC: Strengthening our approach to support their success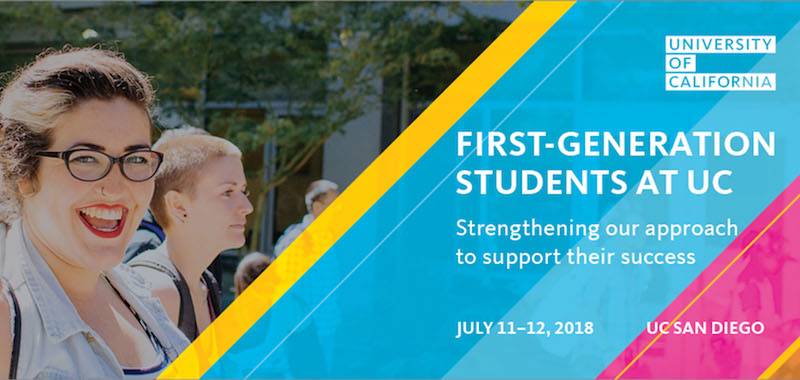 This conference is about deepening our collective understanding of what it means to be a first-generation college student. The University of California has a higher percentage of first-generation students — 42 percent of enrolled undergraduates, systemwide — compared to many peer institutions. Creating a welcoming and enriching experience for these students is a top priority of the university.
As UC president Janet Napolitano recently told Inside Higher Ed: "UC aims to connect first-generation students with the tools necessary for academic success, to foster a sense of belonging and ownership among this critical student population, and to ensure that UC continues to serve as an engine of economic mobility for our diverse population of undergraduates."
Discussions and sessions will showcase innovative solutions and best practices being implemented on UC campuses — and beyond — to narrow opportunity gaps throughout college. How can we cultivate specific opportunities that will help different student populations to thrive? How can we help more first-generation students to stay enrolled, excel, and graduate with a UC education? This gathering is meant to be a platform for colleagues to brainstorm effective ways of working with first-generation students.
We welcome UC practitioners, faculty and campus leaders with oversight of programs that address the retention, graduation, and time-to-degree of first-generation undergraduate and graduate students.
Visit firstgen.universityofcalifornia.edu to learn more about UC support for first-gen students and their families.
Date and Time
Jul 11, 2018–Jul 12, 2018
9:00 am–4:00 pm
Location
Event Registration
Registration for this event is required by Jun 4, 2018. Visit the registration page for details.

Event Fee
$120
Contact
Student Affairs- Student Retention & Success • firstgentritons@ucsd.edu • 858-822-3011
Audience
Faculty, Staff
Event Host
UCOP Office of Diversity and Engagement
Event Category