Jun 20, 2018 at 12:00 pm
GEH Brownbag Seminar: Race, Gender, and Reproductive Politics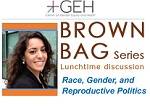 Bayan Abusneineh is a PhD candidate in the Ethnic Studies Department at UC San Diego. Her research and teaching interests think about radical ideology, reproductive justice, and nation-state formation.
Bayan Abusneineh's dissertation looks at race, reproductive policy and nation-state formation in Israel and Palestine, since the 1930s. This summer, Abusneineh will be instructing a course on Gender and Reproductive Politics. The course will examine historical and contemporary debates around issues such as abortion, birth control, surrogacy, fetal testing, and assisted reproductive technologies.
Topics include the essentialization of women as reproducers; the relationship between the corporeal body and body politics; the fight for abortion/birth control; eugenics and coerced sterilization of poor, women of color; reproductive health "rights" and "choices;" and the effects of structural violence and inhumane conditions on reproductive health.
Date and Time
Jun 20, 2018 at 12:00 pm
Location
East Campus Office Building Conference Room 1-001
Event Registration
Registration is not required for this event.

Event Fee
Free
Contact
Luwam Kidane • ltkidane@ucsd.edu • 858-246-3282
Audience
Faculty, Staff, Students, The General Public
Event Host
Jennifer Wagman
Event Category