May 10, 2018 at 5:00 pm
Gender Bias, Sexism, and Stereotypes in STEM with Patricia Valoy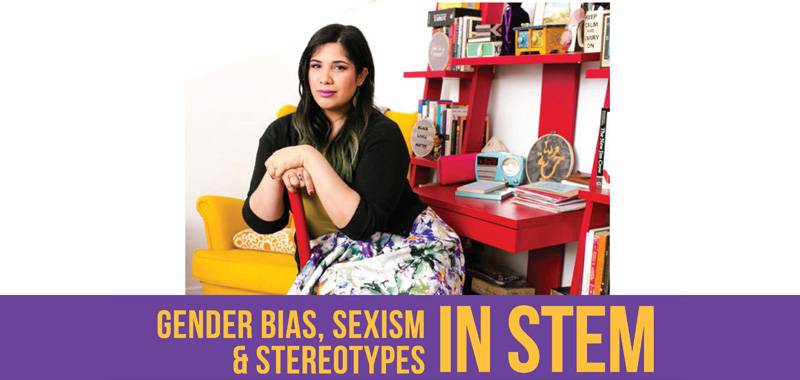 Patricia Valoy—an engineer and project manager, feminist writer, and STEM advocate—will discuss the challenges women and underrepresented communities face in entering STEM fields from a very early age. She will explore the ways in which some individuals have been traditionally pushed away from careers in blue collar male-dominated fields due to stereotypes. Patricia will discuss current statistics, gendered toys, stereotype threat, and cultural stigmas that keep women and underrepresented communities away from STEM fields. Additionally, she will discuss strategies for addressing sexism and offer insights on how to succeed within STEM fields in spite of this gender bias.
Valoy holds a B.S. in civil engineering from Columbia University where she focused on construction management and structural engineering. With her professional background in construction and engineering, she writes and speaks on a variety of issues pertaining to women in STEM and other male-dominated fields, particularly as it relates to women of color and underrepresented minorities.
Valoy's advocacy focuses on attracting and retaining women in STEM careers and building work environments where women are free from discrimination, sexism and racism. She also speaks and writes on a variety of issues affecting the Latinx community including racism, immigration, cultural and religious pressures, and living at the intersection of two cultures.
Valoy is also the STEM chairperson for the Women's Information Network in New York. As the STEM chairperson she combines her experiences as a Latina and a woman in a male-dominated field to advocate and inspire women considering careers in the fields of STEM by planning and hosting events and discussions giving women in STEM a platform within feminist circles.
Date and Time
May 10, 2018 at 5:00 pm
Location
Price Center Theater
Event Registration
Registration is not required for this event.

Event Fee
Free
Contact
Marnie Brookolo • women@ucsd.edu • (858) 822-0074
Audience
Faculty, Staff, Students, The General Public
Event Host
UC San Diego Women's Center
Event Category