Aug 28, 2019 at 8:00 am
Getting Out of Your Own Way in Business with Kelee® Meditation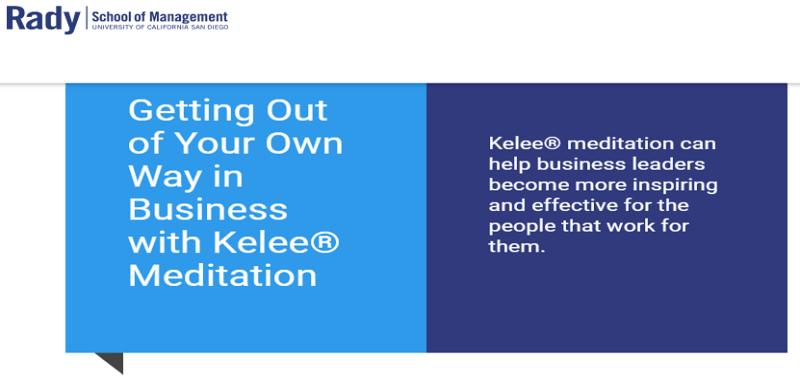 About the Program
How can Kelee® meditation help business leaders? A true leader inspires workers to do their best. A true leader is able to help everyone work together as a team. A team is productive when people get along and work towards the same goal. One team member's personal problems can affect the whole team. Also a true leader that is undistracted and can focus on the present moment helps the whole team to do the same. Kelee® meditation teaches one-pointed stillness of mind. When one practices one-pointed stillness over a period of time you begin to learn the art of detachment. Detaching to one still point allows one to drop into the calmness of the mind. You are also detaching from your compartments, the things that bother you. In Kelee® meditation, you will learn about compartments, which are, for example, your emotional buttons, baggage, or issues. These exist as negative repeating thoughts in your head or negative emotional feelings that well up from within you. Detaching from your compartments during Kelee® meditation allows for the compartments to begin to dissipate. As you release individual compartments you begin to free your mind from tension and stress, you become less distracted and more present in the moment. When you are less distracted and more present in the moment you are able to see more clearly how others are getting along and spot problems and resolve them more quickly. Additionally, as you begin to dissipate your distracting negative repeating thoughts in your head you begin to see everything more clearly and calmly. Kelee® meditation can help business leaders become more inspiring and effective for the people that work for them.
Focus
Participants in this class will learn:
Become more inspiring and effective for the people that work for you.
Improve your ability to detach from distractions and work more efficiently.
Experience the 5-minute Kelee® meditation with small group break-outs.
Expand your understanding of the difference between the brain and the mind.
Understand what compartments are and how they affect the business environment.
Participants
The Mind and the Art of Leadership is for managers and team members who are interested in understanding the mind and improving their everyday work experience.
Quote
Kelee® medical study participants had an average 42.6% decrease in combined stress, anxiety and depression scores on a standardized psychological test after a 12-week period of doing KM.
Testimonial
"Kelee® meditation has been invaluable in developing my ability to manage high stress, high stakes situations." – Frank A. Silva, Chief of Staff Office of the Vice Chancellor Equity, Diversity, and Inclusion University of California, San Diego
Faculty
Nikki Walsh has taught business students Kelee® meditation at the Rady School of Management. Additionally, she teaches at the Kelee® Foundation and has been doing this practice for over 20 years. She holds an MBA from UCI Paul Merage School of Business and a BA in Chemistry from UC San Diego. She is currently a board member at the Kelee® Foundation and has worked up to the director level in Marketing in the biotech and healthcare industries from local medical device start-ups like Biosite Diagnostics and GenSci Orthobiologics to service-oriented companies like Health Net.
Freeman Louis Sands, Jr. earned his BA and MBA from the University of Virginia. His corporate experience includes sales and marketing positions with Procter and Gamble, American Express, and Bristol-Myers Squibb. His nonprofit management experience includes stints with the San Francisco Department of Public Health and UC San Diego Medical Center's Ambulatory Care Services Department. Mr. Sands has been a practitioner of Kelee® meditation for more than twenty years, and he has taught this meditation practice to UC San Diego healthcare staff for ten years.
Date and Time
Aug 28, 2019 at 8:00 am
Location
Event Registration
Registration for this event is required by Aug 21, 2019. Visit the registration page for details.

Event Fee
$400
Contact
Jill Farwell • jrosenow@ucsd.edu • 858-246-0959
Audience
Faculty, Staff, Students, The General Public
Event Host
Rady School of Management
Event Category