May 9, 2018 at 6:00 pm
Gifts from Deaf Culture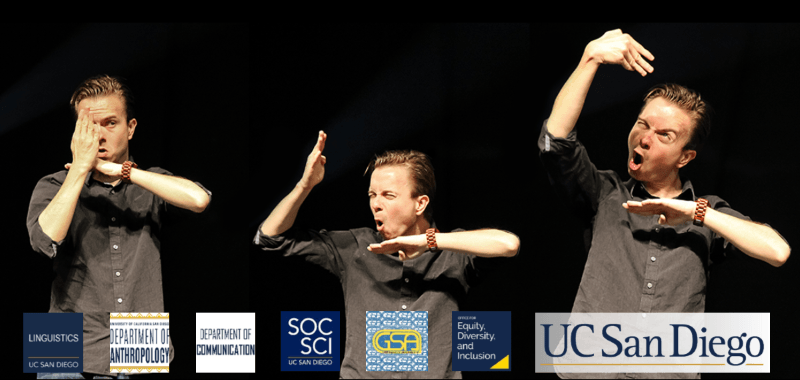 The Linguistics Department presents "Gifts from Deaf Culture," a two-evening event celebrating Deaf Culture on May 9th & 10th at Atkinson Hall.
The first evening (Wed 5/9 at 6:00 pm), Wink dramatically recounts his Deaf parents' tragic experience involving a car accident and their struggles to communicate with a hearing world, interspersed with comedic commentary. Wink is a CODA, a performer, an ASL and Deaf Culture advocate, and a Linguistics graduate student at Gallaudet.
The second evening (Thurs 5/10 at 6:00 pm), Wink moderates a panel of four members of the Deaf Community – Moises Jaramillo, Claudia Jimenez, Rezenet Moges-Riedel, and Carol Padden – as they share their experiences and take questions.
Admission is free and open to the whole campus and San Diego community. Seating will be given on a first come, first served basis. The entire event will be delivered in ASL with English interpretation.
"Gifts from Deaf Culture" is supported by the Department of Anthropology, the Department of Communication, the Division of Social Sciences, the Graduate Student Association, and the Office of the Vice Chancellor for Equity, Diversity, and Inclusion.
Date and Time
May 9, 2018 at 6:00 pm
See more date(s) and/or time(s) below.
Location
Event Registration
Registration is not required for this event.

Event Fee
Free
Contact
Ivano Caponigro • website@ling.ucsd.edu
Audience
Faculty, Staff, Students, The General Public
Event Host
The UC San Diego Linguistics Department
Event Category
Concerts, Performances and Exhibitions
All Event Dates and Times