Apr 10, 2018 at 1:30 pm
Global Social Innovation Challenge Workshops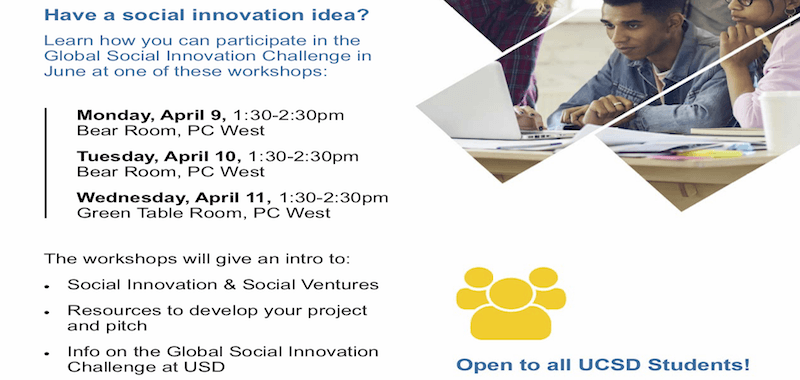 Have a social innovation idea? Learn how you can participate in the in June at one of these workshops, which will give an intro to:
-Social Innovation & Social Ventures
-Resources to develop your project and pitch
-Info on the Global Social Innovation Challenge at USD
Open to all UC San Diego Students!
Date and Time
Apr 9, 2018 at 1:30 pm
See more date(s) and/or time(s) below.
Location
Price Center West, 2nd floor, Bear Room (Mon and Tues), Green Table Room (Wed)
Event Registration
Registration is not required for this event.

Event Fee
Free
Contact
Cat Lettieri • clettieri@ucsd.edu • 858-822-4972
Audience
Students
Event Host
UC San Diego Changemaker Campus Board
Event Category
Tours and Information Sessions
All Event Dates and Times