Oct 20, 2017 at 6:00 pm
Haunted Aquarium: Sea Monster Mash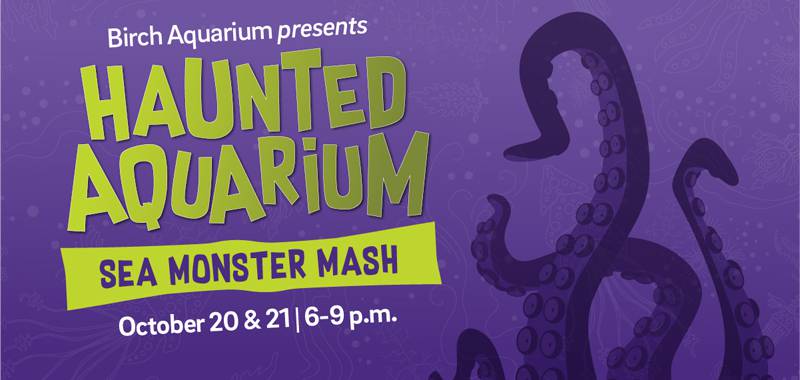 Enjoy close encounters with Scripps Institution of Oceanography scientists and search the galleries for unusual underwater creatures rarely seen at Birch Aquarium at Scripps. Discover a sea of glowing beasts (big and small), get sticky with slime, and enjoy spooky stories, all while boo-gieing down to live music and having a monstrously good time. Recommended for ages 2+. Visit our website for a complete list of activities. Pre-sale tickets are $13.50 for Birch Aquarium Members and $18.50 for the Public. Tickets at the door are $20. Free for children 2 and under. Please note that general admission tickets cannot be used for Haunted Aquarium. You will need to purchase a separate ticket for the special event. The aquarium closes between 5 and 6 p.m. For more information or to purchase tickets, visit aquarium.ucsd.edu or call 858-534-7336.
Date and Time
Oct 20, 2017 at 6:00 pm
See more date(s) and/or time(s) below.
Location
Birch Aquarium at Scripps
Event Registration
Registration is not required for this event.

Event Fee
Door(all): $20, Pre-sale Public: $18.50, Pre-sale Birch Aquarium Members: $13.50
Contact
Birch Aquarium at Scripps • aquariuminfo@ucsd.edu • 858-534-7336
Audience
Faculty, Staff, Students, The General Public
Event Host
Birch Aquarium at Scripps
Event Category
All Event Dates and Times