Feb 5, 2019–Feb 6, 2019 at 1:00 pm
Higher Ed Innovators and Disruptors: Social Mobility & Student Success Conference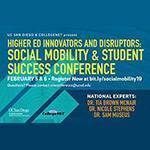 During this 1.5 day conference attendees will participate in a design thinking workshop to cultivate paradigm shifts about student success, learn approaches to become a student ready campus, critically examine the social class divide in educational attainment, and explore how to shape conditions for culturally engaging learning environments. This conference features national speakers such as:
o Dr. Tia Brown McNair, Association of American Colleges and Universities and author of Becoming a Student Ready College
o Dr. Nicole Stephens, award winning social and cultural psychologist whose research focuses on cultural divides as a source of and solution to inequality
o Dr. Samuel Museus, Founding Director of the National Institute for Transformation Equity and the creator of the Culturally Engaging Campus Environments model.
Date and Time
Feb 5, 2019–Feb 6, 2019
1:00 pm–4:00 pm
Location
Event Registration
Registration for this event is required by Jan 24, 2019. Visit the registration page for details.

Event Fee
Varies
Contact
Lindsay Romasanta • srsconference@ucsd.edu • 858-822-3011
Audience
Faculty, Staff, The General Public
Event Host
Student Affairs, Student Retention and Success
Event Category