Aug 4, 2018 at 12:00 am
Hope and Love Concert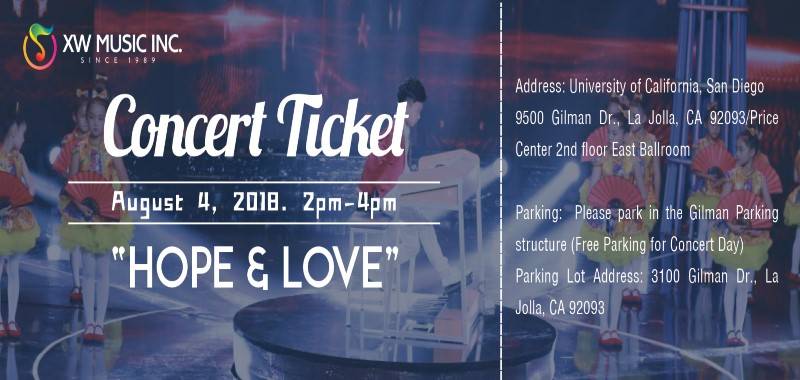 Dear Honored Guests,
"Hope and Love"—A concert dedicated to sustained development of our community and healthy living environment will be held on August 4, 2018, 2:00 pm at the University of California, San Diego.
Xiaowen Music is honored to have the opportunity to present this concert to spread this message of hope and love through music and the arts.
Xiaowen Music is known in China as one of the forerunners of music education. Since its beginning, Xiaowen Music has been devoted to human development through sharing concerts and cultural performances.
Our concert consists of different cultural performances accompanied by dance and music, including double keyboard and piano, as well as a vocal chorus and soloists.
We at Xiaowen Music believe that it is not just our skills or abilities that empower us to share this beautiful message, but also our passion, culture and fundamental values. We hope you enjoy our performance!
Concert Time: August 4, 2018. 2pm–4pm.
Concert Location: 9500 Gilman Dr, La Jolla, CA 92093/Price Center
East Ballroom
Organizers: Xiaowen Music, International Painting and Calligraphy
Art Exchange Association
Co-organizers: Golden Dragon Chinese Kungfu and Culture Institute,
UC San Diego Chinese Union
Supporting Partners: Little Golden Orange Education, YY Art Center
Parking: Please park in the Gilman Parking structure (Free Parking for Concert Day)
Address: 252 Russell Lane, La Jolla, CA 92093
Sincerely,
Xiaowen Music
Date and Time
Aug 4, 2018 at 2:00 pm
See more date(s) and/or time(s) below.
Location
Price Center - East Ballroom - UC San Diego campus
Event Registration
Registration is not required for this event.

Event Fee
Free
Contact
Xingchen Rita Wang • Waypointstarusa@gmail.com • 619-748-6192
Audience
Faculty, Staff, Students, The General Public
Event Host
XW Music Inc. (Xiaowen Music)
Event Category
Concerts, Performances and Exhibitions
All Event Dates and Times